Here it is: Apple's iPad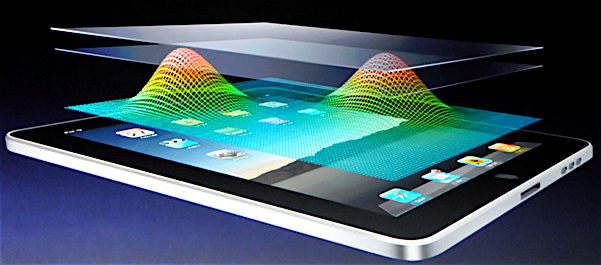 Now we can finally put the rumors to rest. Apple has finally unveiled its new tablet product, called the iPad. Apple CEO Steve Jobs today said the company aimed to make the product better than a laptop at browsing the Web, sharing photos, videos, music, playing games, and reading e-books; but in an all-touch form factor smaller than a notebook, and just larger than an iPhone.
As expected, the device is actually quite a lot like a big iPhone; as such, it can run all of the existing apps in the iTunes app store. The added bonus is that it can run them in their normal mode or in "2x" mode to fit the larger screen. The device has a custom user interface and will launch with its own exclusive software such as e-reader application "iBooks," touch-paint program "Brushes," and a totally re-designed touchscreen version of iWork.
The iPad starts at only $499 for the 16GB model with no 3G. The 3G-enabled 16GB model costs $629. The top of the line iPad with 64GB of memory and 3G connectivity will run $829. These prices are much lower than the rumors had said, but they actually fit in with the rest of the industry's tablets and convertible notebooks.
<!image id=4446 center>
Preliminary Specs:
1 GHz Apple A4 Chip
16GB, 32GB, or 64GB of Flash storage
9.7" capacitive multitouch screen (LED Backlit)
.5" thick chassis
1.5 lbs
Custom iPhone OS 3.2 (beta available today to registered developers)
802.11n Wi-Fi
Bluetooth 2.1 +EDR
Optional 3G connectivity with AT&T, (unlimited data $29.99 per month, no contract necessary)
3G is "unlocked" UMTS/HSDPA (850, 1900, 2100 MHz)
GSM/EDGE (850, 900,1800, 1900 MHz)
GSM SIM compatible, international release slated for Summer
Wireless not yet FCC authorized, available in 60 days
Accelerometer
Compass
Speaker
Microphone
30-pin iPod connector
10 hour battery life (30 days on standby)
Keyboard dock available