Motorola launches its next Android-based device on Verizon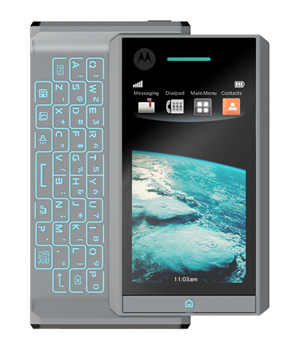 <!image id=4482>
Since well before Motorola released even its first Android device, a render of a seafoam green and silver slider phone called "Calgary" was floating around the Android blogs. It wasn't until today that Motorola officially announced this phone. Now known as Devour, the new Android device will be available on Verizon Wireless in March.
<!image id=4481>
<!image id=4484 left>Looking like the slightly smaller cousin of the popular Droid, Devour is Verizon's third Android phone, and first that carries Motorola's trademark MotoBLUR interface (built upon Android 1.6). In many respects, Devour looks quite a bit like the Droid, except with specs a little lighter to encourage affordability. The display, for example, is a 3.1" HVGA capacitive touchscreen with 320 x 480 resolution instead of 3.7" (480 x 854); and the camera is 3 megapixels instead of 5.
The main differences from the Droid are in the MotoBLUR interface, the chiclet-style keyboard instead of membrane style, and the touch-sensitive navigation pad instead of a D-pad.
Verizon has not yet announced the subsidized price of Devour, nor has Motorola announced an MSRP.