Nvidia debuts new dynamically-switched graphics card technology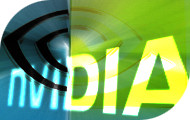 The idea behind notebooks with switchable graphics processors is that the most common tasks are handled by the lower power integrated GPU; but should the user need more complex graphics, a discrete graphics processor will be able to kick in to take care of the hard work.
It's been an option in certain notebooks for more than three years, and it has certainly grown more common as the technology has aged. But it has never quite been a perfect, on-demand solution. In the earliest switchable setups, the computer had to be rebooted for the swap to take place, and in later iterations, it required a physical switch to be thrown or sessions to be reset. and still others could turn on the discrete GPU, <!article id="1231879750">but not switch back to integrated once the change was made.
Today, Nvidia debuted its <!external href="http://www.nvidia.com/object/optimus_technology.html">Optimus technology for GPU switching, which will soon be available in a handful of Asus notebooks (UL50Vf, U30Jc in the "ultra slim and light" series, and N61Jv, N71Jv, N82Jv in the Multimedia N series) Instead of requiring a conscious effort on the part of the user, Optimus-powered graphics processors balance the graphical processor load as a background task. Unlike <!external href="http://www.amd.com/us/products/technologies/switchable-graphics/Pages/switchable-graphics.aspx">ATI's switchable graphics platform, which uses the discrete card when under AC power and the integrated graphics processor to be used in battery mode, Optimus switches dynamically based upon the needs of the running applications.
"We needed hardware support to quickly move the graphics data around in the system, so we created a fast copy engine. The Optimus Copy Engine is a new alternative to traditional DMA (Direct Memory Access) transfers between the GPU frame buffer memory and system memory used by the IGP. With Optimus we also removed multiplexers, called MUXs, so we use the integrated graphics as a display adapter or pass through," Sasha Ostojic, Nvidia's Senior Director of Notebook Software, wrote in <!external href="http://blogs.nvidia.com/ntersect/2010/02/world-meet-optimus.html">Nvidia's blog today. "The discrete GPU can do the heavy lifting and pass through the results to the integrated graphics chip to be displayed. By doing this, Optimus eliminated the need for hardware multiplexer and completely removed glitches associated with switching the display from IGP to GPU. Optimus transfers the display surface from the GPU frame buffer over the PCI Express bus to the system memory-based frame buffer used by the IGP. The key to performing the display transfer without negatively impacting 3D performance is the Optimus Copy Engine."
Asus' notebooks featuring Optimus are expected to begin availability some time in mid-March, with specifics pending.