T-Mobile rushes ahead with HSPA+, announces first USB modem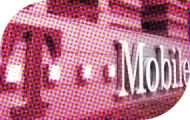 Even though T-Mobile's HSPA+ deployment consists of only one city right now (Philadelphia), the mobile operator today unveiled its first piece of consumer equipment that will be able to handle the <!article id="1262731049">21 Mbps HSPA+ network, and indeed the first HSPA+ modem available in the US, the WebConnect Rocket.
The Rocket is sort of a sequel to the WebConnect Jet 3G modem which <!article id="1237999860">launched last year. The main difference here is that T-Mobile was actually the last United States wireless carrier to offer a 3G USB modem, and it could be the first to offer a next-generation (some consider HSPA+ to be 3.5G or 3.75G) USB modem commercially.
T-Mobile is working to upgrade its 3G network -- which now includes more than 240 markets -- to the HSPA+ standard, and hopes to have most of its 3G footprint covered by HSPA+ by the end of 2010.
The device will become available in March, but pricing and local market availability have not yet been announced.