Microsoft's Social Connector adds a bonus upgrade for Outlook 2007

---
Download Outlook Social Connector 32-bit Beta for Outlook 2007 for Windows from Fileforum now.
---
It's no surprise that Microsoft has begun distribution of the first beta of Outlook Social Connector, the Office plug-in that adds a list of each contact's social network activity to Outlook. It's also no surprise that business contacts network LinkedIn is Microsoft's first partner -- that fact has been known for some time. What is interesting is that today's beta release also contains a version that supports Outlook 2007, adding to it one key feature that could very well have been a reason to upgrade to Outlook 2010: the People Pane.
Only the 32-bit beta is available at present, so users of 64-bit Office 2007 will have to wait, although the beta will work in 64-bit Windows. Once installed, the new People Pane appears in both the Mail and Contacts panels, and in e-mail messages. Surprisingly, it also new Outlook functionality that doesn't even require social network connections. The People Pane is built into the latest Outlook 2010 Release Candidate, so you don't need to download the separate beta package; if you have the RC, you already have Social Connector. You don't actually need any social network connections at all to make the People Pane work. However, to expand its functionality to see social activity, you need a "connector" package; and the first such package available comes from LinkedIn, and is available for download here.
In our tests today, we noted that the Social Connector beta (which should, by all rights, be called the People Pane) collected its photos of contacts not from LinkedIn (which does use photos) but from Outlook's existing database. So even though you may make contact with several people in LinkedIn who are not necessarily enrolled in your list of Outlook contacts, at least for now, there's no automatic device in Outlook for importing a LinkedIn contact as an Outlook contact. This was the case for us, even though the Profile Pane clearly reads, "Connect to social networks to show profile photos and activity updates of your colleagues in Outlook." Of course, you could have your LinkedIn friend send you a vCard.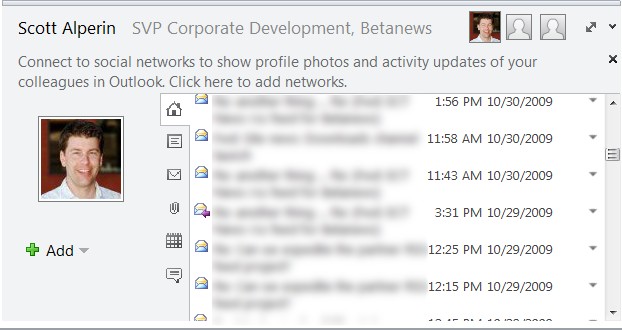 On the other hand, this critical separation between the social network and the e-mail client does cast light on a fundamental, and in many regards, beneficial difference between this system and Google Buzz in Gmail. When you select an e-mail from a known contact or the entry for that contact in Outlook's database, the People Pane recalls that person's LinkedIn activity (as well as from other connected networks), and Outlook merely reports it -- the connection is one-way only. Your LinkedIn contacts do not see your e-mail contacts in Outlook, and you don't use LinkedIn any differently than you did before.
More social connectors are expected to be made available soon, but not from Microsoft directly. A company spokesperson tells Betanews that, although LinkedIn did develop its connector in partnership with Microsoft, in typical situations, it will be up to outside developers to create new connectors that merge social networks' APIs with that of Outlook. So while Twitter and Facebook connectors are quite likely, perhaps even before Outlook 2010's general release this June, the theoretical ability for Outlook to connect with Google Buzz will have to be tested either by Google itself (the company acts as though this is a possibility) or by independent developers.
Social Connector will be a standard feature of Outlook 2010 when it's released as part of Office 2010 by Microsoft in June.