Up Close with TiVo's new Bluetooth QWERTY remote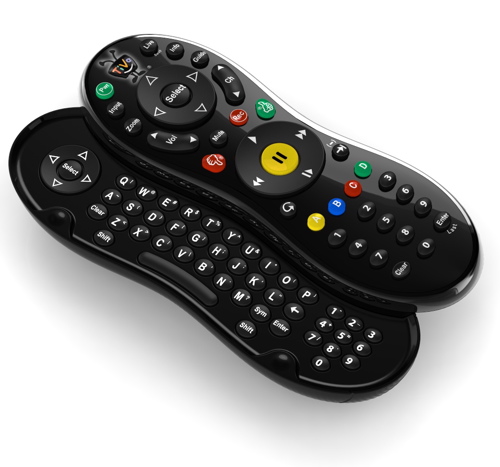 Though the focus of tonight's TiVo unveiling was a new TiVo Premiere DVR, the company was especially proud of the upgrade to the remote control due out later this year. TiVo's new Bluetooth remote features a QWERTY keyboard to aid searching and finding content.
Shaped identically to the standard TiVo "peanut" remote, the new model slides horizontally to reveal a chiclet keyboard with a D-pad and a numeric keypad. This feature adds some girth to the usual remote's size and also contributes to a somewhat flimsy feel. This, however, could be due to the fact that all the remotes we handled were pre-production versions that looked to have been handled quite a bit.
<!image id=4613 center>
Since TiVo doesn't have Bluetooth radios built in, the remote comes with a USB dongle that is plugged into an available USB port on TiVo Series3, TiVo HD, or TiVo Premiere boxes.
Though D-Link's Boxee Box also has a full QWERTY keyboard <!external href="http://blog.boxee.tv/2010/01/05/by-the-pricking-of-my-thumbs-something-awesome-this-way-comes/">on its remote, that particular device is otherwise very simple, with an iPod-like D-pad and a menu, enter, and play buttons. TiVo's new remote has just about 80 buttons in total.
The device is far from elegant, but its utility is hard to dispute. It clings very closely to TiVo's traditional design and users will no doubt feel quite at home using it.