Hands-on with Gesture Search for Android 2.0

Devices running Android 2.0 and later can now download from the Android Market the Google Gesture Search lab, an application which recognizes letters drawn on the touchscreen and uses them as live in-phone search terms.
The standalone application can search your contacts, browser bookmarks, installed applications by name, or music by artist name, album name or track name, all queries are limited to within your device, and do not yet reach deeper into applications for Web or content searching.
Since it is just a lab at present, Gesture has a number of serious limitations. Most notably, it lacks support for all of the devices running Android 1.5 and 1.6, lacks international support, and lacks support for numeric input.
But Gesture is still an interesting experiment thanks to its surprisingly accurate suggestion logic. Unlike the Graffiti handwriting recognition system on old Palm OS devices, it doesn't use a single-stroke input method, and the input can be extremely varied. Yet the application still recognizes the alphabet.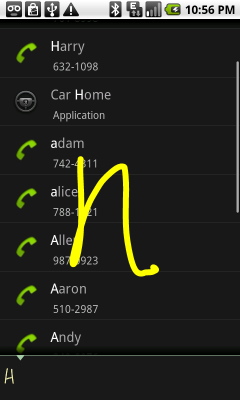 In testing it, I began at a letter's standard block state, then gradually began to deviate from that form until I was drawing something completely unintelligible. As you get further from the letter's original state, the search suggestion list gets longer. As you enter subsequent letters, the list gets more finely tuned. This means you can actually be quite carefree when entering letters.
Of course, that sort of testing rapidly deteriorated into a game of Pictionary with Gesture Search. The "peace sign" seemed to always result in a W, while the "anarchy sign" interchangeably would result in a B, Q, or M. A stick figure seems most prone to turn into a P, and painting the entire screen with one continuous gesture is a crap shoot.
To test the application's mettle, I made a bunch of nonsensical browser bookmarks with intentionally difficult names such as "Ijiij" and "jijii," or "aoaoa" and "ooao," and results were surprisingly consistent.
The suggestion logic worked well with all of my tests until I started running "Uvuvu" and "Uuvuu." The application never suggested the first one, and without fail suggested the second. I changed the destination of the bookmarks just to make sure it wasn't being influenced by something there, but it never suggested "Uvuvu" under any circumstances.
Gestures would make a useful complement to voice search on Android, but the limited scope of this Lab has a lot of users more concerned about fragmentation than about making their searches easier.