Samsung reveals just how expensive 3D in the home is going to be

At CES this year, every major consumer electronics company involved in the HDTV market had floorspace dedicated to 3D TVs. They were convinced that 3D in the home is ready for widespread adoption, and the popularity of James Cameron's Avatar would kickstart adoption.
Samsung today announced its full 2010 3D TV lineup, which shows just how expensive it's going to be to upgrade your home theater to the third dimension.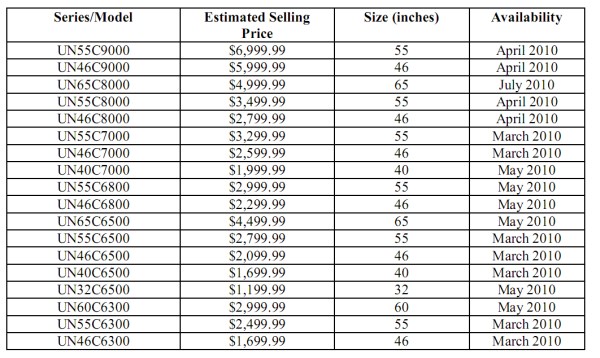 The 3D TV lineup includes the LED 7000/8000/9000 Series (starting at $1,999.99, about halfway down the chart), the LCD 750 Series, and the Plasma 7000/8000 Series. The 46" and 55" LED C7000 will be available this month, and the rest will roll out at different points during the spring.
But the TV is only one part of the whole setup. You will need at least a 3D-capable Blu-ray player, one pair of active shutter glasses for every viewer, and, of course, the 3D discs. Samsung will be selling its 3D Blu-ray player for $399.99, and its Blu-Ray home theater system for $899.99 this April.
With the immediate point of entry at $2,400, Samsung could at least throw in some stitches to close the wound to your bank account. So the company announced a promotion program where customers who buy a 3D TV and 3D Blu-ray player will get two pairs of active shutter glasses and a 3D Blu-ray copy of Monsters vs. Aliens for free.
Tomorrow, Panasonic is expected to unveil its 3D offerings for the year with a similar promotional tie-in with Best Buy.