Windows Phone 7 Series has Netflix streaming, Xbox Live gaming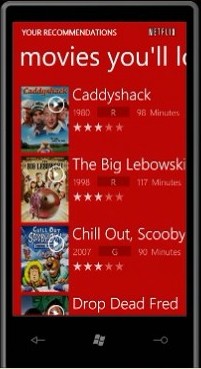 One year can change a lot.
Today, Microsoft used the MIX '10 stage in Las Vegas to show off a lot of the applications that are currently being prepared to launch with Windows Phone 7 Series, and they are a far cry from the <!article id="1237565496">poor Windows 6.5 showing at last year's MIX event.
The inclusion of Silverlight 4 and the XNA Framework into the Windows Phone platform has afforded developers a lot of power, and today's demonstration showed off how they can be harnessed to make Windows Phone stand out in the mobile crowd where it has lately faltered.
While it included a number of attractive apps such as popular Twitter client Seesmic, location-based social network Foursquare, music identification service Shazam, and the Associated Press, a couple of demonstrations were real show stealers.
<!media id=4663 center>
Netflix was one of them. While the popular video rental service has applications across all mobile platforms right now, they are limited to accessing and modifying the user's queue of movie titles.
The popular Netflix instant streaming service which has landed on everything from TiVo to the Wii has until now been limited to stationary devices. Thanks to Silverlight, streaming videos can now be watched on Windows Phone 7 Series devices. The cross-platform runtime was first used to bring the streaming video service to the Mac, and now it's brought it to its first official mobile application.
The other standout wasn't really a single app, but more the Windows Phone gaming category as a whole. <!media id=4664 right>Thanks to the iPhone's popularity as a gaming device, games are increasingly being developed for mobile devices first and then being "ported up" to the console and the PC. Today, Larry "<!external href="http://majornelson.com/about.aspx">Major Nelson" Hryb showed off games -- such as The Harvest, shown below -- that could be played on a Windows Phone, PC, or Xbox 360. This means that no matter what platform you're playing the game on, you can unlock achievements, increase your gamer score, access leaderboards, and connect to your friends over Live.
While a lot of this was discussed at the unveiling of Windows Phone 7 series, there were not full-scale demonstrations of gameplay like there were today. And unlike cross-platform ports of iPhone games; for example, games by Chillingo which have been ported to the Nintendo Wii and DS, these games can take advantage of the strengths of each platform with the XNA Framework.
"Developers and designers can now build their code once and optimize it to take advantage of the unique capabilities of the phone, Web, PC or Xbox 360. Due to common shared libraries, controls and runtimes across these many screens and the cloud, developers now have the opportunity to reach over 1 billion customers," Microsoft's Charlie Kindel <!external href="http://windowsteamblog.com/blogs/wpdev/archive/2010/03/15/the-right-mix.aspx?utm_source=twitterfeed&utm_medium=twitter">said in the Windows Phone developer blog today.