Microsoft's Hohm smart grid service pairs with Ford's 2011 electric car

Microsoft and Ford have worked closely for more than three years on the Sync in-car communication, navigation, and entertainment system, and today the companies announced their partnership has branched out into energy management for electric vehicles.
At the New York International Auto Show today, the two companies announced that the 2011 Ford Focus Electric will be the first vehicle to utilize Microsoft Hohm for automation and optimization of charging. Hohm is a cloud-based service that provides actionable info on your energy consumption that Microsoft first debuted nine months ago.
Microsoft says that 42% of consumers say they're likely to buy a hybrid or electric vehicle in the next two years. But an often overlooked fact about these vehicles is that they instantly become the biggest user of electricity in your home, and if everyone plugged in their cars at once, the energy grid could be crippled.
Hohm will help users determine the most efficient and affordable times to recharge their Ford Focus Electric.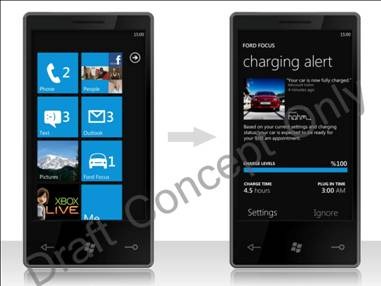 With only one vehicle in the program so far, this collaboration is still in its early phases. However, that didn't preclude Microsoft from throwing in a teaser shot of a Hohm application for Windows Phone 7 Series.
"Our plan is to make electric vehicle ownership easier and more affordable for consumers and help utility companies manage the added demands of electric vehicles on the electric grid," Microsoft wrote in the Hohm community blog today.