Spring Design's Android-based Alex e-reader ships Wednesday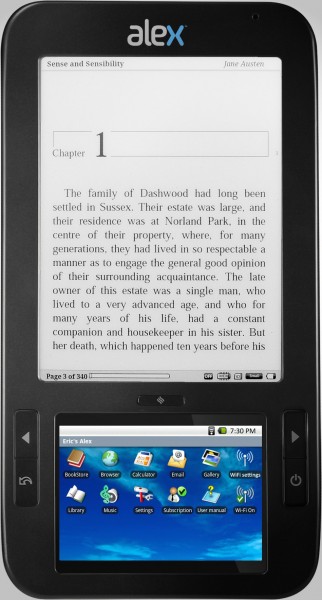 <!external href="http://www.springdesign.com/">Spring Design's Android-based, dual-screen e-reader named "Alex" made a sudden and noticeable splash when it was announced one day before book retailer Barnes & Noble debuted its Android-powered Nook e-reader, and then Spring Design sued them over it.
We had a look at a pre-production model of Alex at CES last January, and Spring Design started taking orders for the $399 e-reader in February.
The company has just announced that those orders will begin shipping tomorrow.
The 11-ounce Android-powered e-reader supports ePub, PDF, HTML, and TXT documents on the upper e-paper screen, and the lower full-color touchscreen offers full Web browsing over Wi-Fi connectivity. Spring Design today said that there will be a model that supports EV-DO rev. A 3G wireless, and a multi-language model for international markets.