Palm's browser-based webOS development tool leaves beta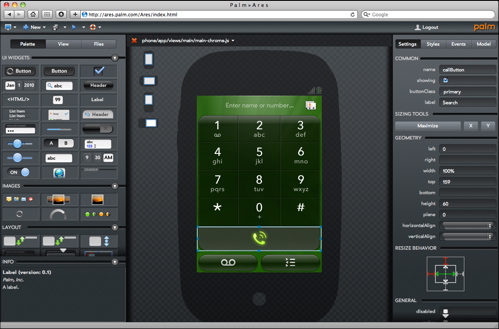 In addition to its more traditional Mojo software development kit for WebOS, Palm introduced a novel browser-based development environment for webOS last December called Project Ares. Users can drag-and-drop to create apps in Ares, and then hit "launch" in the browser to package, upload and launch homemade apps on a USB-connected Pre or Pixi.
Today, Palm alerted developers that the first full version of Project Ares has launched.
Ares 1.0 includes, as Palm says, "<!external href="http://ares.palm.com/Ares/docstemp/whatsnew.html">lots and lots of new features," including Components, which are widgets that access low-level functions (service calls, sensors, etc.) without any user interface. These components can be dragged and dropped onto the design canvas where they become icons at the bottom of the screen that can be selected, configured, and called in a single line of code.
Registered Palm developers can <!external href="http://ares.palm.com/Ares/login.html">simply sign in to the Ares website to start working with it. Having the full SDK installed is recommended, but not mandatory.