Silverlight revolutionizes beta of next Windows Home Server

---
Make your connection to Microsoft Windows Home Server "Vail" Public Beta through Fileforum now.
---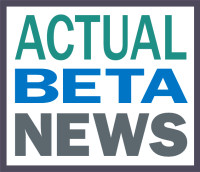 One of Silverlight video's biggest advantages to date has been the server's ability to tweak the bitrate of video playback as it's being played back, and as the bandwidth of the connection varies. It's the smooth streaming feature that premiered last June with Silverlight 3. Now, with Silverlight 4 already well under way, Microsoft today premiered a public beta of a forthcoming release of Windows Home Server, which will be capable of smooth-streaming video to any Silverlight-enhanced client via the Web.
With the new server software, code-named "Vail" (as in Colorado, not "veil" as in fabric cover), the new generation of DLNA home video and audio components -- including Blu-ray players and notebook PCs -- will be able to receive "pushed" setup information through the home's wireless router, enabling those components to connect to the wireless network. It will be the new Windows Home Server that does the pushing, via the "Play To" functionality that already premiered in Windows 7 but has yet to be tested in a full server setting.
"DLNA enables your home server to participate in a 'Play To' environment as a Digital Media Server (DMS)," reads the reviewer's guide to the "Vail" server, published today. Other DLNA-compatible devices -- TVs, stereos, your Xbox 360 (in Windows Media Center Mode) and more -- can automatically find your home server from within your home network and then stream videos, music, and pictures on demand from it."
"Vail" will also be the first Home Server rendition that plays the role the system should have been born to play: captain of the Homegroup. For the first time in Microsoft's history, the Homegroup feature has made network connectivity actually easy. With "Vail," libraries enrolled in the Homegroup become pushed to users' computers throughout the home, and shared by user name rather than system ID.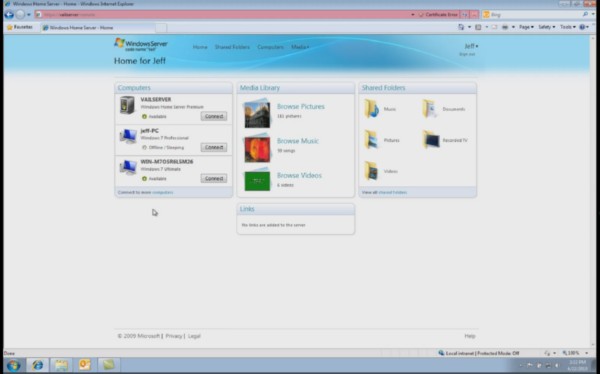 The Console app to which users have grown accustomed for managing backup file locations and media libraries, has been replaced in "Vail" with a completely redone Silverlight app. While the built-in version of the new Dashboard looks simple enough, it's actually the browser-based version that looks more dynamic. If it reminds you of apps you've seen recently on Windows Live, it's not by accident. It gives "Vail" a kind of media server home page, from which the user can set up shop, literally becoming her own broadcaster.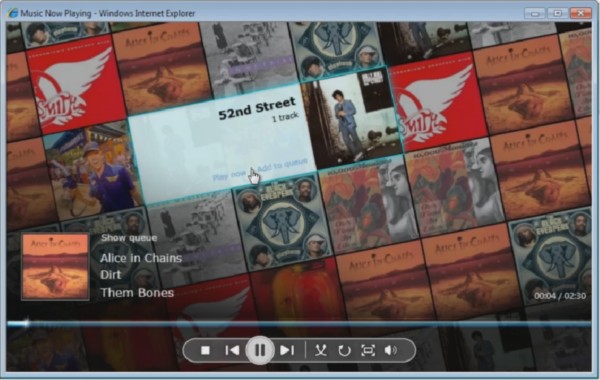 Streaming audio from your Home Server to a client that runs Silverlight, also enables this animated album cover showcase. What will be interesting to see is whether mobile platforms on which Silverlight may run, will also be capable of presenting this same showcase. That could change the entire ballgame for many handset or netbook users who are currently stuck with substandard MP3 player apps. Imagine a media world where playback capabilities and experience are determined by your server, not by your device's manufacturer.
(And yes, the question will inevitably come up: When a home broadcaster streams content online, including to herself, will she owe royalties? No, that is not meant in sarcasm or as a joke.)
Microsoft advises that "Vail" beta testers use clean installs only -- very clean, in fact. The company would rather you not install "Vail" on a hard drive that has anything on it, including another operating system -- wipe the partition clean first. Keeping true to its promise made in 2008, this server kernel is 64-bit only. A minimum 160 GB hard drive is required, which is fair enough if you stick to building a test system using parts made within the last three years.