Borders finally jumps into e-reader market, launches Kobo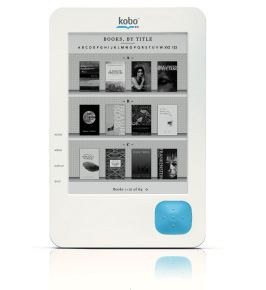 Borders, the United States' second largest bookstore chain behind Barnes and Noble, announced it is now taking pre-orders on its Kobo e-reader, which will arrive on June 17.
At $149.99, the Kobo is considerably cheaper than <!article id="1256065254">Barnes & Noble's nook and Amazon's Kindle, both of which retail for $259.00, and it comes pre-loaded with <!external href="http://www.koboereader.com/free-ebooks.html">100 classic books. Borders has not yet launched its cross-platform eBook store, but says it will be <!external href="http://www.borders.com/online/store/MediaView_ebooks">open in June when Kobo ships.
"We are giving consumers the flexibility to read the content they want on a variety of devices of their choosing. The Borders eBook store will be positioned as a device-agnostic, content-focused destination with expertise from decades of deep book knowledge and experience. We'll also have a strong in-store digital presence through our Area-e boutiques, which will launch in August," Borders Group Interim President and Chief Executive Officer Mike Edwards said today. "It's a niche position within our industry and one where we fully intend to leverage our knowledge and products to serve the growing eReading needs of our customers."
Though Borders has not published what format its e-bookstore will support, Kobo only supports ePub, PDF, and Adobe DRM e-books. The support for Adobe-protected books is a clear indication of what we can expect from Borders, and e-Books supporting the technology can be shared with up to 6 devices authorized to the same account.
Unfortunately, Kobo does not have Wi-Fi or 3G wireless connectivity. It does, however, have a Bluetooth radio, which lets users pair their Kobo with BlackBerry smartphones running the Kobo eReader app (which is available <!external href="http://www.koboereader.com/who-is-kobo.html">across many mobile platforms). Like Kindle, this lets users pass their content over to their smartphone to continue reading if their e-reader is not handy. Other specs for the device are modest; it offers 1 GB of built-in storage and has an SD card slot for expansion, promises a 2-week charge or 8000 page flips, and has a weight nearly 100 grams less than the nook.
Pre-orders for Kobo can be placed today <!external href="http://www.borders.com/online/store/MediaView_koboereaderspecs">on Borders' Web site.