Twitter resets follow lists to zero because of 'auto-follow' bug

A few quick articles popped up in tech blogs this afternoon which confirmed a serious flaw in the Twitter follow system. Notably, the Gizmodo article entitled "How to Force Anyone to Follow you on Twitter," showed that by simply typing
"accept [username]" into the Twitter Web interface, you could turn anyone into your Twitter follower.
Immediately, users began turning celebrity Twitter users into their followers. Former late night talk show host Conan O'Brien, who makes a point of only following one person, immediately began following hundreds of profiles.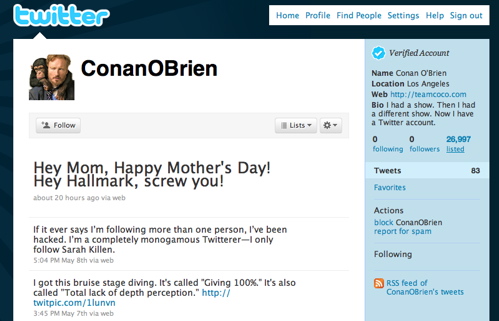 Once the Web caught onto the bug, Twitter reset everyone's follow lists to zero and confirmed that it was working on a fix.

On Twitter's status blog, it says, "We identified and resolved a bug that permitted a user to 'force' other users to follow them. We're now working to rollback all abuse of the bug that took place. Follower/following numbers are currently at 0; we're aware and this too should shortly be resolved."
The best part about this bug is the way it was reportedly discovered. According to a Mashable article this afternoon, a Turkish Twitter user found when he had posted "Accept pwnz" (in reference to the 80's metal band named Accept,) the user @pwnz was automatically added as a follower.