Roku adds UFC to streaming lineup, now has nearly 30 channels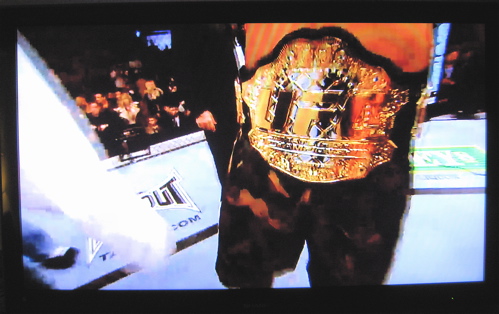 Two years ago, Roku launched the first set top box <!article id="1211298653">dedicated to Netflix's Instant Streaming. Since that time, Roku has added enough partnerships to make that $99 box into its own little a la carte TV service.
In addition to the Netflix channel, the Roku streamer has Amazon Video on Demand, MLB.TV, NBA Game Time, Revision3, Blip.tv, DreamTV, Moonlight Movies, Kung-Fu Theater, Drive-In Classics, Cowboy Classics, Midwest Cage Championship, Pandora, Weiss Money Network, MediaFly, Motionbox, Twit.TV, Flickr, FrameChannel, MHz On Demand, Facebook Photos, Blubrry Podcast Community, MobileTribe, The Highway Girl, SmugMug, and Tech Podcasts Network. There are more than 50,000 instantly streamable movies, TV Shows, live sporting events, and podcasts available on Roku with more being added every day. Since it's an open platform, users can even create and add their own stations.
<!image id=4993 center>
Later today, Roku will be pushing out another official sports network to round out the offerings from Major League Baseball and the National Basketball Association: The UFC (Ultimate Fighting Championship) Channel.
Roku users will be able to add the UFC channel in the Roku Channel Store, and then be able to access the popular pay-per-view martial arts events (with a linked account on <!external href="http://www.ufc.com">UFC.com.) Not only will users be able to watch live streaming events, but they will also be able to watch archived events, and behind-the-scenes bonus footage weigh-ins, pre-and-post fight press conferences, and interviews.
<!image id=4996 center>
The official first live streaming event on the channel will be UFC 114 on May 29th, but we got a sneak preview of the service with the broadcast of 113 just over a week ago.
<!image id=4998 center>
In typical Roku fashion, the channel's layout is clean and simple. Most importantly, though, the actual streaming was flawless and high quality. With an appropriate connection speed, you will be able to watch the contents in high definition.
<!image id=4997 center>
Besides offering on-demand access to all the bonus footage, 1.) events you have paid for are saved to your UFC account and are permanently accessible, like Amazon Video on Demand 2.) You can perform keyword searches of the archives.
The pay-per-view events cost the same on the Roku channel as they would through your cable provider.
<!image id=4995 center>