Facebook CEO: 'We are removing the connections privacy model'

In a move that may end up drastically scaling back what Facebook had hoped last month would be a redefinition of the Web itself, the social service will soon begin rolling out simplified privacy controls, according to a blog post today from CEO Mark Zuckerberg. The new controls may make it easier for Facebook users to limit the extent to which the system shares their personal information with others, especially including other Web sites.
Continuing to deflect criticism, the CEO said that Facebook had always offered a multiplicity of privacy controls, but "if you find them too hard to use then you won't feel like you have control. Unless you feel in control, then you won't be comfortable sharing and our service will be less useful for you. We agree we need to improve this.
"We've reduced the amount of basic information that must be visible to everyone and we are removing the connections privacy model," Zuckerberg announced. "Now we'll be giving you the ability to control who can see your friends and pages. These fields will no longer have to be public."
Although Zuckerberg describes the new privacy control as a "single" switch, an examination of the screen shot he provided for the new controls reveals that one of the settings causing users the most headaches appears to be compartmentalized behind a subheading, "Applications and Websites." As Facebook originally planned for its Open Graph API -- a.k.a., "Like" -- other Web sites can share information about content that their users have "favorited," or voted up, with Facebook. That way, Facebook can assemble new links to its own content that has the same or similar subject matter.
But that system would require an implied open sharing status between Facebook and those other sites, one which many users might not readily trust if its presence were plainly explained to them.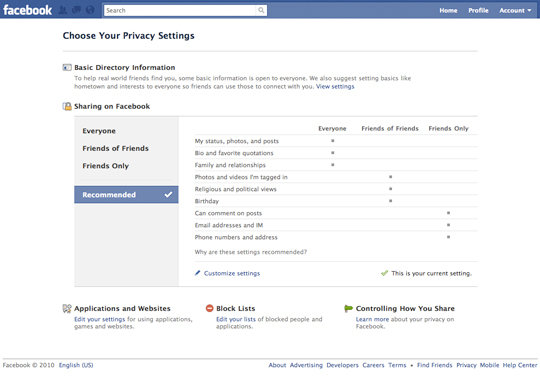 A check of Facebook's updated privacy page does show, however, that the service did make one switch out of several: If a user turns off Facebook's ability to receive shared "Like" data from other Web sites, she also shuts off her ability to use Facebook applications. (No more lunchtime harvesting, in other words.) This process is referred to by Facebook as "turning off platform." As an alternative, the user may opt to turn off individual applications' and Web sites' access to Facebook data on a per-app basis, which is the more "granular" option that already existed, and that Zuckerberg said he had thought users would have preferred.
The new Applications and Websites panel, reads the new privacy page, "controls what information is shared with websites and applications, including search engines (applications and websites you and your friends use already have access to your name, profile picture, gender, networks, friend list, user ID, and any other information you share with everyone). You can view your applications, remove any you don't want to use, or turn off platform completely. Turning off platform means you won't be able to use any platform applications or websites and we won't share your information with them."
Users will still see "recommended" privacy settings, however, which may still guide novice users into making relaxed, less stringent choices -- a fact which may not extract Facebook from the hot water it finds itself in today.
In an op-ed piece for the Washington Post last weekend, Zuckerberg showed reluctant acceptance for the notion that some people simply must have their privacy, even if they're joining a social network. Today, he went a step further, literally but politely telling users that this is the last privacy upgrade they'll be getting for a long while, so they'd better be happy with this one.
"Finally and perhaps most importantly, I am pleased to say that with these changes the overhaul of Facebook's privacy model is complete. If you find these changes helpful, then we plan to keep this privacy framework for a long time. That means you won't need to worry about changes," the CEO wrote. And if you had any doubt that he was biting his tongue a bit when he wrote that, he then added, "(Believe me, we're probably happier about this than you are.)"
At the time of this writing, the new privacy settings were not yet made available to those Facebook accounts to which we have access.