Use your Kindle 2 to send free Tweets over Sprint's 3G network

Even if you're not a big Twitter fan, it's easy to appreciate that nearly any device can be connected to it. Because it's such a simple text-based service, many unlikely devices have their own Twitter clients, like the Commodore 64, the Sinclair ZX Spectrum, and the Nintendo DS. Just for fun last month, I connected an old Sony Clie NX-70V running Palm OS 5 to Twitter, and it actually worked reasonably well.
So today, owners of the Amazon Kindle can manually update the software of their E-readers to Version 2.5, and can start Tweeting. This is especially useful because the Kindle has a free connection to Sprint's 3G network, and you post semi-standalone Tweets (I'll explain further) or links to longer text segments.
Today's software upgrade includes several other important features which were unveiled last April, such as the ability to pan and zoom PDFs, and organize content into folders, but it's the free social network connection that I'm most interested in.
After installing the update, you must link your Kindle to Twitter or Facebook in the Kindle's experimental browser. Once that is finished, you can select text from within your e-books, and share them to the social networks. With the text selections, you are given a little space for an associated message. Because these messages contain a link and a #kindle hashtag, you have less than 140 characters to work with.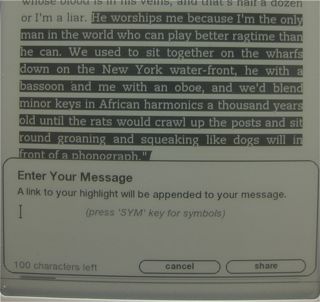 The text selection in the image above was then sent out as a link to this page hosted by Amazon.
Of course, you don't have to even link to text from the book you're reading. You can simply add a text annotation to your book and share that, just start typing and hit "save and share."
Here is an example of a plain Tweet from the Kindle.
As you can see, that text is also presented with a link and hashtag, so your space is limited. But since the Kindle has a free connection to Sprint's 3G network, it's easy to overlook such a shortcoming when you can freely send updates wherever there's coverage.
Clarification:
Since last year, Amazon Kindle 2 has been available "with international wireless" via a partnership with AT&T I wrote about it here. For this story, I used a "first generation" Kindle 2 which works on Sprint's EV-DO Rev. A 3G network. Both the Sprint and AT&T versions include the experimental browser which lets you access Twitter directly. However, this article was meant to show off the "in-book" Tweeting capability added with the Kindle 2.5 software update, so I tried to keep it relevant to my test by specifying that it was using Sprint...I guess it's not the best title or anything. Oh well. -Tim