Roku and Clearleap present complete solution to cable companies for over the top video on demand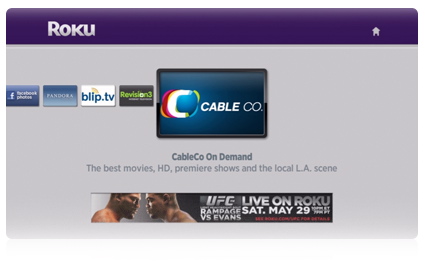 Entertainment hardware company Roku and Web-based TV platform maker Clearleap today announced an interesting partnership which could result in cable companies offering their own video on demand station on Roku's popular streaming set top box.
The two companies will begin offering a solution that lets Internet-based video on demand purchases be routed through a customer's pay TV subscription. Similar to the way the Roku set top box allows Netflix customers to have access to all of the Netflix Instant streaming content on their TV; this new partnership could, for example, bring a "Comcast channel" to the Roku box, where subscribers have access to all the free or pay-per-view content they'd have on a Comcast set top box.
Except, of course, it would be available over IP, and would only require an over-the-top solution like the Roku box.
<!image id=5086 center>
"Clearleap's platform opens a clear and easy pathway for premium programmers and TV operators to diversify the distribution of their content through the Roku player and will dramatically strengthen our value as an engaging living room entertainment device," said David Krall, president and COO of Roku in a statement today. "This also makes a strong case for [Multi-system Operators] to consider using Roku players in the home with Clearleap as a complete managed [Video on demand] service."
The two companies will be running tests over the next six months, and expect to launch a limited commercial deployment with an unnamed pay TV operator by the end of this year.