Motorola announces Charm, the first BlackBerry-like Android device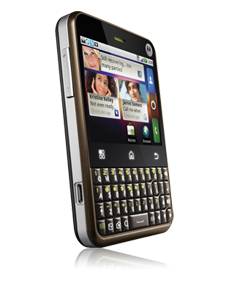 Google's Android mobile operating system has been released on many different types of devices, but since it is a touch-based OS, pretty much every device has been a so-called "touchphone," a device built around its screen.
But Motorola has been thinking outside of the box with Android, and has released several models that break out of the traditional touchphone form factor. Today, it has ventured even further outside of the touchphone realm and announced a new device that looks very little like any other Android device, the Charm.
Also unlike many of the recent Android announcements, Charm is not outfitted with the biggest and most powerful equipment. The touchscreen is 2.8", the camera is 3 Megapixels, and the Android operating system is version 2.1 with MotoBLUR. Like the Backflip, however, Charm is equipped with Motorola's "backtrack" navigation system, a trackpad mounted on the back of the device, which lets the user navigate Android and MotoBLUR without actually touching the screen directly.
Motorola Charm will be launched this summer exclusively in the U.S. on T-Mobile. An exact date and price have not yet been announced.