Google provides a look at Android's highly customized future with App Inventor

For anyone with an Android phone and a great idea for an app but no experience with writing code, Google has announced the ultimate solution.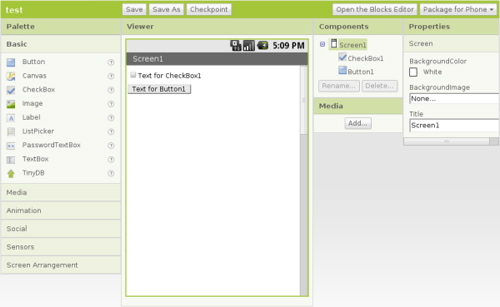 Today, Google began the beta phase of App Inventor, a graphical tool in Google Labs for designing custom Android applications. Users of the tool do not need to know anything about programming to be able to create an app, package it, and upload it to their USB-connected Android phone.
Like the webOS graphical development tool Ares which launched last April, Google's App Inventor lets users drag and drop graphics, sound, and actions into a virtual smartphone, compile and then export the finished product to their mobile device. Because it is intended for educational and personal use, no developer programs, SDKs or NDKs are necessary.
The part of App Inventor where the app is designed is based on the Open Blocks Java Library developed by Eric Klopfer and Daniel Wendel of the Scheller Program at MIT three years ago (their method borrowed heavily from the StarLogo TNG block programming system.)
App Inventor's compiler uses the Kawa Language Framework, itself an implementation of Scheme, which is in the Lisp family of programming languages. But because the tool works on such a simple level, users will not even need to know any of this information.
Once released, this tool will open up a level of customizability heretofore unseen in Android. With no special skills required, users can already alter the look of their Android device, install custom ROMs, and pick and choose which apps they have.
But they have never been able to simply make an application to suit a specific need like an Android developer can. With this tool, the openness of Android will be much more tangible to the average user.
Sign up for the open beta of App Inventor here. App inventor will work both on Windows and Mac OS machines.