Microsoft's last preview of IE9 before beta improves speed, standards compatibility

Just shy of one month before Internet Explorer 9 is expected to launch in beta, Microsoft Wednesday released the fourth and final IE9 platform preview. The release is meant to give developers and designers an opportunity to observe the enhancements to the Internet Explorer platform so they can adjust their sites to take advantage of the new technologies it uses.
Microsoft's strategy for IE9 has been to make it synonymous with the HTML5 standard, and to give the development community something new to work with about every eight weeks.
"Developers want to use the same HTML, the same script, and the same markup across browsers. That's the goal of standards and interoperability. No need for different code paths for different browsers. That's a key goal for HTML 5," said Internet Explorer General Manager Dean Hachamovitch at MIX 10 in March. "We love HTML 5 so much, we want it to actually work. In IE9, it will. We want the same HTML, the same script, the same markup to just work across browsers. So in IE9, we'll do for the rest of the Web platform what we did for CSS 2.1 in IE8."
In a blog post announcing the latest preview on Wednesday, Hachamovitch continued to stress the power of HTML5, but a major facet to the preview is actually the way its JavaScript engine, "Chakra," has been integrated into the browser.
"How a JavaScript engine is integrated into the browser is as important as the engine itself for real-world HTML5," Hachamovitch said. "The fourth Platform Preview moves the new JavaScript engine...inside IE9 and brings them together into one single, integrated system."
Hachamovitch says this integration will make IE9 the first browser to have a shared document object model (DOM) between the browser itself and the script engine, based on ECMAScript5.
"With this change, communication between the browser and script engine is now direct, which significantly improves performance for real world websites," he said. "We now have a single DOM, shared across all browser subsystems including JavaScript. This change ensures a consistent and interoperable view of the document. And this single DOM is now based on ES5, which prepares the entire system for the future."
For non-developers, the preview gives a solid look at the IE9 platform's performance against common Web standards tests, such as the popular Acid3 test and the SunSpider JavaScript test. The first platform preview scored a 55% on Acid3, which was improved to 68% by the second preview in May. In June, the score was up to 83%, and with the most current preview, it is up to 95%.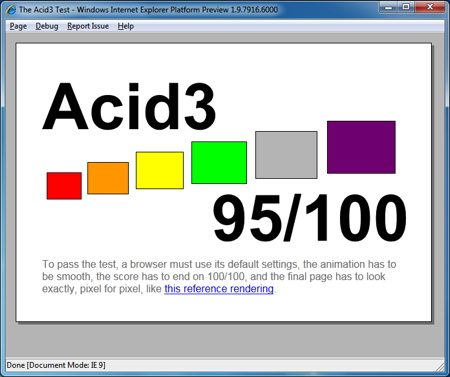 For it to hit 100%, IE9 needs to support SVG Fonts and SMIL animation of SVG, which Hachamovitch describes as standards that are "in transition," meaning support for them is less than total.
---
Download Microsoft Internet Explorer 9 Platform Preview 4 (v. 1.9.7.9.16.6000) from Fileforum now.
---