MIT lab creates giant robotic tadpoles for oil spill cleanup

The Sensable City lab at the Massachusetts Institute of Technology (MIT) is developing a solar-powered robot whose sole purpose is to clean up oil spilled into the water.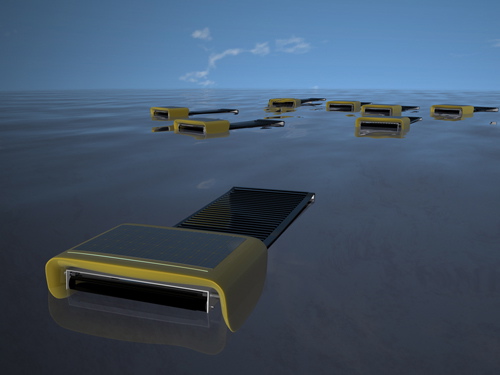 Seaswarm, as the robot design is called, is essentially a large robotic tadpole. The "head" of the robot consists of a solar collecting cell, which generates enough electricity to power the nanowire-covered conveyer belt "tail." The conveyor belt propels the robot, and the nanofabric on the surface of the belt can absorb 20 times its own weight in oil without becoming saturated with water. The oil sucked up onto the belt is then removed by heating it up and evaporating the oil into a container in the head of the robot.
At 7 feet by 16 feet, the robot is meant to be set up in fleets, and the individual units in the fleet communicate with each other through GPS and Wi-Fi, so once they're deployed, they navigate mostly autonomously against GPS data about the oil spill.
"We are also working on developing on board sensors that can work within our 100W limit and be deployed on board our current prototype," said Phil Salesses, Research Affiliate with the Robotic Mobility Group at MIT. "When it has completed cleaning, a unit joins and reinforces others working in other areas. Oil is 'digested' locally so that Seaswarm does not need to make repeated trips back to shore, a practice that can dramatically slow cleaning time."
Seaswarm is being previewed at the Venice Biennale of Architecture starting August 29, 2010 in the "Nanotechnology in the year 2050" exhibit. The robotic fleet is also expected to be a competitor in the $1.4 million Wendy Schmidt Oil Cleanup X Challenge.