Microsoft's flexible Arc Touch Mouse goes up for pre-order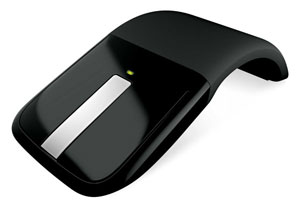 Microsoft Wednesday announced the availability of its Arc Touch mouse, a brilliantly designed mouse that can be flattened to fit into a laptop bag. The peripheral uses a capacitive touch panel in place of a scroll wheel, and provides haptic feedback that simulates the gentle ratcheting action of a traditional scroll wheel.
<!image id=5272 center>
In light of the recent <!external href="http://www.nytimes.com/2010/09/01/technology/01touch.html?_r=1&src=busln">popularity of touchscreens and trackpads, Microsoft wanted to make it clear today that the mouse is far from dead.
"This is not the first time that the mouse has been threatened, look at 10 years ago when people started buying laptops that had integrated pointers and touch pads. Still, the mouse category continued to grow and grow," Brett Ostrum, general manager for the Hardware Group at Microsoft said. "The reasons people need external mice will not change: comfort and precision. The Arc Touch Mouse just demonstrates again how committed Microsoft is to continuing to bring great new mice to consumers."
<!image id=5273 center>
The Arc Touch Mouse is powered by two AAA batteries and carries a suggested retail price of $69.95. It can be pre-ordered today on Amazon.com, BestBuy.com and Buy.com. Microsoft says it will ship in early December and will be available in retail stores in January 2011.