Are IDC and Gartner mobile OS forecasts trustworthy?

Microsoft's funeral for BlackBerry and iPhone is eerily foreshadowing. Apple 2.0 blogger Philip Elmer-DeWitt asks "Who Will Bury Whom?" It's the right question, but there's no easy answer. Last week, Gartner and IDC released seemingly non-congruent forecasts about mobile operating systems' futures. Whom should you believe? Gartner, IDC or Microsoft?
Windows Phone 7's release to manufacturing, which the mock funeral celebrated, is Microsoft's bold assault to recover lost territory. Before Apple released iPhone in June 2007, Windows Mobile's market share trailed only giant Symbian. Fast forward to 2010, and Microsoft's mobile OS is No. 5, whether measured by smartphones or all handsets, according to Gartner. Can Microsoft retake market share territory captured by upstarts Apple and Google?
I'll affirmatively say "maybe a little," although in a past post I firmly asserted that "Windows Phone 7 is a lost cause." Simply put: "Microsoft's problem is more about timing than strategy -- or technology." I remain unhopeful about Windows Phone 7's future, but also recognize that the mobile phone market is dynamic and rapidly changing. Much will depend on how Microsoft executes, particularly with the marketing. I hold out hope because of how good are Microsoft's Bing, Internet Explorer 8 and Windows 7 marketing campaigns. As such, I look cautiously at the Gartner and IDC forecasts.
Evaluating Mobile Forecasts by the Numbers
The Gartner forecast is the more chilling for Microsoft:
The analyst firm reports and forecasts actual sales -- not shipments to carriers or dealers -- which offers a more accurate perspective of the real-time mobile market.
The forecast, through 2014, covers all mobile operating systems -- not just smartphones.
Gartner all but disregards Microsoft's mobile OS, which global market share is forecast to decline to 3.9 percent in four years.
Gartner claims that Android will be second only to Symbian in mobile OS market share -- based on sales -- this year. By 2014, Symbian and Android will be near even -- with 30.2 percent and 29.6 percent share, respectively. The two so-called "open" mobile operating systems would command about 60 percent market share.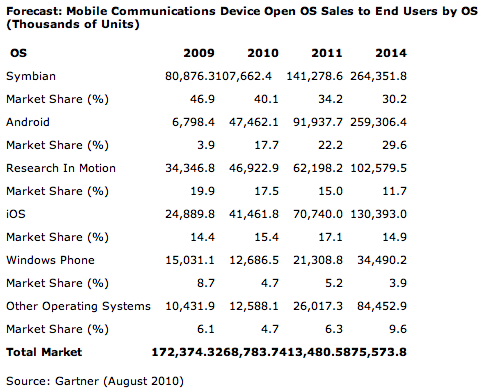 With respect to Symbian's future, Gartner's forecast is the most damning to date. But it's worse for Microsoft's mobile operating system. "The worldwide mobile OS market is dominated by four players: Symbian, Android, Research In Motion and iOS," Roberta Cozza, Gartner principal research analyst, asserted in a statement. She predicts that the "OS space will consolidate around a few key OS providers," and she doesn't include Microsoft as one of them. Gartner puts Microsoft's mobile OS No. 6 in 2014, behind -- gasp -- Meego, which has negligible market share today. Intel and Nokia are codeveloping Meego.
Market share is but one measure. Unit shipments is another. Gartner sees Windows Phone OS shipments little more than doubling in the forecast period (2009-2014) -- from 15 million to 34.5 million units. By comparison, Android shipments will rise to 259 million from 6.8 million units.
IDC's forecast, also through 2014, is for smartphones, and it holds slim glimmers of hope for Microsoft:
The analyst firm asserts the smartphone market can "comfortably support up to five OS players," which would include Microsoft.
On smartphones, Microsoft's mobile OS will grow 43.3 percent through 2014, with share rising to nearly 10 percent.
Apple's iOS share will fall to within 1.1 percent of Microsoft's mobile OS in 2014.
Neither of these forecasts is particularly hopeful for Windows Phone 7, which circles back to the "Who will bury whom?" question. One answer: Analysts are burying Windows Phone 7. But are the epitaphs premature?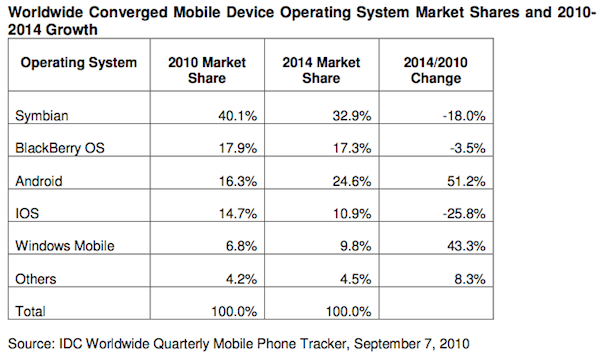 What analyst in 2006 predicted that Apple would release an innovation-leading smartphone in 2007 or successful mobile applications store in 2008? Who in 2007 predicted that two years after the autumn 2008 launch of Google G1 that Android would be the world's second-most popular mobile operating system -- measured by market share? No credible analyst I know of. The point: In such a rapidly evolving market can analyst forecasts truly be trusted? I'm skeptical.
Some Factors That Could Affect Handset Sales
There are several mitigating factors that almost certainly will affect who wins, if anyone, the handset OS wars. Among them:
1. Microsoft traditionally does its best work when pushed into a corner. If CEO Steve Ballmer is willing to really invest in Windows Phone 7 marketing, there's still a chance. Verizon's $100 million campaign supporting the Droid launch did magic for Android -- that and the later 2-for-1 sales special. Say, Microsoft, how about a special Xbox Kinect bundle with free Windows Phone 7 for Christmas shoppers? Limited Edition to show off Xbox gaming on both devices.
2. Apple has yet to fully tap its most potentially lucrative market -- the United States. Single-carrier distribution hampers growth, particularly when Android or BlackBerry OS are available on handsets from all major carriers. The end of exclusivity here and in some other countries will unlock pent-up demand for iPhone.
3. Nokia is getting a new CEO, Stephen Elop, on September 21; the announcement came after Gartner and IDC finished their forecasts. Nokia will undergo a dramatic transition during a crucial time period, when more manufacturers will be adopting Android. Change in leadership at the executive level could go either way -- slow down Nokia at the wrong time or lead to competitive-changing new innovations and strategies within 12 to 18 months.
4. Emerging markets' increasing consumption of connected handsets is difficult to accurately predict. In huge growth markets like India, the first 3G networks are just now starting to reach the masses. Nokia is strategically better positioned than most competitors. Symbian could still reverse course. In these markets, dumb phones dominate sales, and Nokia has done well bringing smartphone features to them. That said, manufacturers are adopting Android for dumb phones, giving Nokia hefty competitions in markets it has long dominated.
5. The killer application for mobile will be mobile banking/money, or so I predict. The feature lets cell phone owners store/send/receive money in accounts associated with their mobiles, providing banking and payment features to people who otherwise wouldn't use commercial banks, particularly in emerging markets. In an early August US State Department presentation, "[email protected]: Mobile Money and Financial Inclusion," Maria Otero, Under Secretary of State for Democracy and Global Affairs, observed that about 5 billion of the planet's 6.6 billion people have cell phones. However, 1.7 billion cell phone users with low incomes do not have bank accounts. Mobile money could change all that.
Mobile banking/money is a truly empowering application, but it's one with great limitations. For now. Mobile banking/money services are fragmented, mainly for reasons related to availability, competition, infrastructure and local financial regulations. Additionally, no major mobile OS developer has incorporated banking/money services into its platform. Apple and Google have payment infrastructure in place -- iTunes and Checkout, respectively -- and Nokia has announced a mobile money service. Platform integration would be a game changer for somebody, depending which vendor gets there first and how much capability is made available to third-party applications. The Who, What, Where and When of mobile banking/money could hugely affect future handset sales -- and which will be the leading operating system(s).