Dell unveils Inspiron One 23, Zino HD, and Dell Stage

Dell rolled out two new PCs on Thursday- the Inspiron One 23 all-in-one, plus a refreshed Inspiron Zino HD home entertainment PC -- along with a new touch interface called Dell Stage which is expected to appear on devices ranging from PCs to smartphones.
Priced starting at $299, the revamped Zino HD is designed to increase multimedia home theater support by adding better processing, memory, and more I/0 ports on the back, including a new SPDIF port and two eSATA ports.
While the revised Zino can be easily stowed in a home entertainment center and plugged in to a TV, the Inspiron One 23 is designed for small spaces in kitchens and other places where a touch interface accessible to everyone makes particular sense, said Dell's Chris Camilletti, talking with me at a recent press pre-briefing in New York City.
The One 23 all-in-one PC does come with a keyboard, too. When not in use, the keyboard can be tucked into a special dedicated space underneath the accompanying 23-inch WLED-backlit 1080p full HD screen.
Priced beginning at $799, the Energy Star 5-compliant Inspiron One 23 is made partly of recycled plastics.
It's also the first device to be outfitted with Dell Stage, a new touch interface for simplified access to photos, music, and videos and TV.
Dell Stage touch interface
Dell created Stage because, according to its research, most consumers consider these personal multimedia files to be the most important content on their PCs, Camilletti told me at the press event.
Stage also includes some apps -- such as new Dodge and Bug Blast games, StickyNotes, and a DellTouchCam camera tool -- aimed at use by all family members. A few other built-in apps, like YouPaint and Touch Instruments, are mostly for kids. Artwork created in YouPaint can be saved as wallpaper.
Camilletti showed how, from the Photo tile, you can view your library of personal videos and photos in a timeline-based waterfall format, with the most recent appearing on top. "The most recent are usually the ones you want to look at and show to people," Camilletti observed.
You can also create collections and slideshows. Editing tools include crop, rotate, auto-enhance, and red eye corrections. Also -- anywhere but in China -- you can upload photos and view friends' content from their Facebook or Flickr page.
From Music, you can put together music libraries that are searchable by title, artist, or album. If you touch on a CD cover, you can see the list of songs. If you touch on RadioTime, you can hear satellite radio. Moreover, if you live in the US, UK or Germany, you can buy new music through the Napster store.
The Video tile offers a built-in media player called VideoStage. You can also rent or purchase a video there through CinemaNow, but only in the US.
Another tile, DellWeb, gives touch acccess to Dell Twitter, Dell Facebook, dell.com, and support-dell.com. Dell Stage also displays shortcuts to all the programs on your system by category.
Dell Stage is handy (excuse the pun), but it seems kind of restricted right now, especially if you reside outside the United States. Even within the US, you can only access CinemaNow for renting or buying films from inside the Video tile, instead of being able to choose movies from Netflix, Blockbuster, or other sites.
Music and photo sharing sites are likewise limited. More games, including some with a more grown-up slant, would undoubtedly be appreciated by many users.
Hopefully, Dell will expand the available alternatives over time. In any case, you're not in a walled garden. The all-in-one does include a keyboard, too. You can always go to whatever Web sites you want, anyway, although not through the Dell Stage touch interface.
Dell also intends to introduce Stage on some other new devices of various sizes throughout its line-up, said Camilletti, without specifying any other models. Dell introduced its first US phone, the Aero, and its first Android tablet, the five-inch Streak, earlier this year, but neither comes with Dell Stage.
This week, Michael Dell acknowledged that Dell is now working on a new seven-inch Android tablet.
Dell Inspiron One 23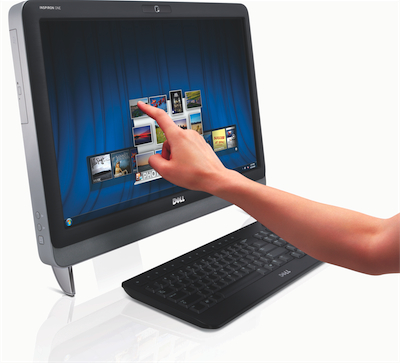 On the hardware side, the Dell Inspiron One 23 comes with a built-in 2.0 MP Webcam with microphone; an optical drive (up to Blu-Ray Combo); an eight-way media card reader; and two-by-four watt speakers with THX TruStudio. An optional remote is available, for access from across the room.
Other specs include an AMD Athlon II X 4 (45W) processor; ATI Mobility Radeon HD 540 graphics with up to 1GB DDR3; an up to 1TB SATA hard disk drive (HDD); and up to 8GB DDR3 1333MHz
memory (non-ECC only).
Abundant back and side ports include six USB 2.0 slots and ports for VGA, HDMI, SPDIF, line-out rear audio, and 10/100/1000 Ethernet, for example.
Revamped Dell Zino HD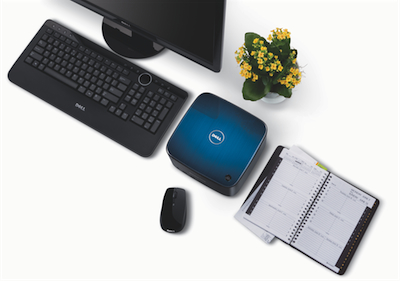 The updated Inspiron Zino HD also unveiled today offers the same graphics capabilities, optical drive options, and HDD as the Inspiron One 23, together with processor options of up to AMD Vision Quad Core Phenom II X 4 P920.
"We're upping the ante for home entertainment," contended Anne Camden, Dell's public relations manager. In addition, available memory has been increased to up to 8GB DDR3 1066MHz (Non-ECC only), Camden told me.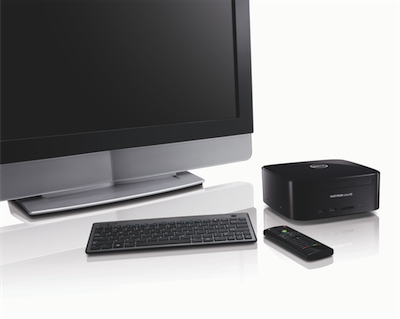 Also included in the 8-inch by 8-inch chassis are integrated WiFi of up to 802.11n; 2.1 HD audio of up to THX 7.1; a built-in four-in-one media card reader; four USB slots; two eSATA ports; the new SPDIF port; and ports for VGA, HDMI, and 10/100/1000 Mbps Ethernet, for instance.
Options for the Zino HD include a range of Dell USB and wireless keyboards and mice. One RF wireless keyboard option integrates both a mouse and a remote.
Both of Dell's new PCs are available with the Windows 7 operating system, up to Professional 64-bit Edition.