Motorola unleashes salvo of new Android phones

At CTIA Enterprise and Applications 2010 in San Francisco today, mobile phone maker and major Android supporter Motorola unveiled six new Android smartphones that will be available at different points later this year. In typical Motorola fashion, each device offers a unique selling point to make it stand out in the Android marketplace.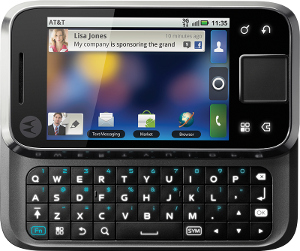 Flipside
This QWERTY slider features a unique large trackpad on the front panel beside the 3.1" touchscreen. It runs a 720MHz processor and Android 2.1, and will be available for $99 on AT&T.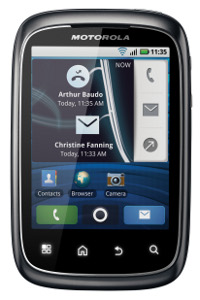 Spice
This touchphone is designed for one-handed use, so it features a shorter chassis, has Motorola's Backtrack trackpad on the rear, and a portrait QWERTY keyboard. There was no announcement of Spice coming to the U.S., but Motorola mentioned that the device will be launching in Brazil.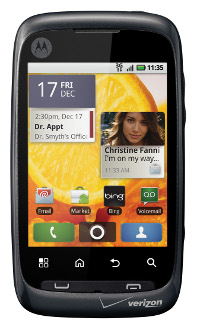 Citrus
Similar to the Spice, the Citrus is designed for one-handed use and features a Backtrack trackpad, but no QWERTY keyboard. Verizon Wireless will be getting this touchphone, and though pricing has yet to be announced, it is expected to be an entry-level device based upon its modest specs.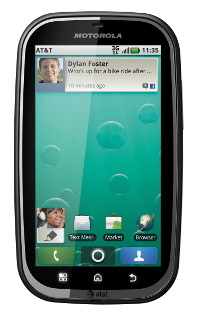 Bravo
This 3.7" touchphone is bound for AT&T. Running on an 800MHz TI OMAP processor, and equipped with a 3.2 megapixel camera, Bravo will be available for $129.99 this holiday season. It is the most powerful of the three new Android devices AT&T will be getting from Motorola.
Flipout
Like the Charm, Flipout features a 2.8" square screen and square keyboard, but it has a corner hinge which lets the device be folded over. This will be available with AT&T on October 17 and will cost $79.99.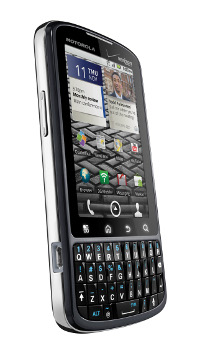 Droid Pro
As the "Droid" billing suggests, this one is bound for Verizon Wireless, and it is the second QWERTY candybar phone that Motorola has made, and it definitely will appeal to BlackBerry users. With a 3.1" HVGA touchscreen, a 1GHz TI processor, 2GB of onboard memory with microSD support up to 32GB, Android 2.2, and mobile hotspot capability, supporting up to five devices, the Droid Pro is the highest-end device Motorola has unveiled this time around.