Is Apple No. 1 and not No. 3 in U.S. PC shipments?

It's a follow-up question to another question posed in late August: "Is Apple the real U.S. PC market share leader -- or soon will be?" I ask both questions based on another: Is iPad a personal computer? I assert "Yes" based on function, but neither Gartner nor IDC, which both released preliminary third-quarter PC shipment data late yesterday, classify iPad as a PC. Right now, iPad isn't really counted anywhere, despite generating $2.17 billion in new revenue during the launch quarter. If iPad is counted as a PC, then based on analysts' projected tablet shipments and IDC's Q3 data, Apple could rank as No. 1 in the United States. What is iPad then?
Even without counting the tablet, Apple had a great quarter. In the United States, Apple shipped 1.999 million (why isn't it rounded up to 2 million) Macs during Q3, according to IDC. U.S. Mac shipments grew 24.1 percent year over year reaching 10.6 percent market share, up from 8.9 percent in Q3 2009. IDC put Apple at No. 3 in the United States, but Gartner asserted No. 4, with 1,831,664 units to Acer's 1,848,511 for a difference of 16,847 units. Gartner had U.S. Mac shipments growing 13.7 percent year over year with third-ranked Acer falling 21 percent. Apple's market share was 10.4 percent, according to Gartner. Either Apple sold a helluva lot of Macs during Q3 or the company stuffed the retail channel with stock; Gartner and IDC only measure shipments into the channel not out of it. Given Apple's usually tight inventory management, I'd wager on sales.
The numbers are actually more industry-meaningful than they appear on the surface. Both analyst firms acknowledged that PC shipments fell below their forecasts. IDC put year-over-year global PC shipment growth at about 11 percent, or nearly 3 percent below forecasts. Gartner gave a more tepid growth figure of 7.6 percent, rather than the forecast 12.7 percent. Apple more than doubled Toshiba's growth (11.6 percent) in the United States, according to IDC. Gartner put Toshiba's growth slightly ahead of Apple, which still handily outgrew the overall U.S. PC market. Worldwide, Apple's market share was 4.5 percent, according to IDC.
In the United States, IDC blamed weak back-to-school sales for slower-than-expected market growth -- just 3.8 percent, or off forecast by about 7 percent. But there's the looming question of iPad's role. That's right, for the device not counted in PC shipments.
"Apple's influence on the PC market continues to grow, particularly in the U.S., as the company's iPad has had some negative impact on the mininotebook market," Bob O'Donnell, IDC's vice president for Clients and Displays, said in a statement. "But, the halo effect of the device also helped propel Mac sales."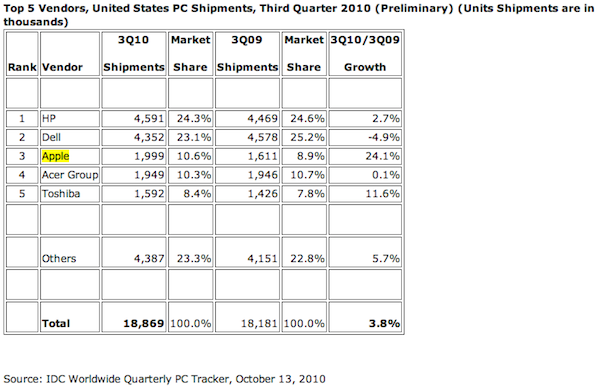 Halo Effect? Mikako Kitagawa, Gartner principal analyst was, more explicit -- in a statement: "Media tablet hype around devices such as the iPad has also affected consumer notebook growth by delaying some PC purchases, especially in the U.S. consumer market. Media tablets don't replace primary PCs, but they affect PC purchases in many ways. At this stage, hype around media tablets has led consumers and the channels to take a 'wait and see' approach to buying a new device."
Delaying purchases? Or buying something else? Kitagawa acknowledged that "consumer mobile PC demand -- driven by low-priced notebooks, including mini-notebooks -- slowed after very strong growth the past two years." Slowed by what -- students not buying computers for school? Or did they perhaps buy something else? Certainly someone bought more Macs. Back-to-school season was quite good to Apple.
I queried Stephen Baker, NPD's vice president of industry analysis, about U.S. PC retail data. NPD measures actual sales, not shipments. "Our data shows them outgrowing the market in July/August combined as well. September data is not available until Monday." But NPD doesn't count iPad either, or at least not in any category publicly disclosed. Nearly two weeks ago NPD released an iPad owners study showing iPad not cannibalizing Mac sales but sucking some from netbooks. The analysts seem to agree that iPad is sucking away netbook sales. They also agree on not classifying iPad as a PC -- not that it's categorized anywhere else.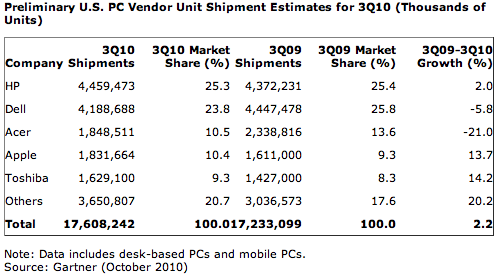 What is a PC? I define PC by function, and with the exception of not having a mouse, iPad can do all that netbooks can -- run applications (many more than netbooks); perform Internet functions like Web browsing and e-mail; play games (many more than netbooks or even PCs); and consume and produce digital content (e.g., photos and videos), among many other tasks. There is Wi-Fi, Bluetooth and GPS (on some models). The criteria hanging up analysts appears to be operating system, or it was in my iPad definition discussion with Baker: Apple's iOS isn't a desktop operating system. Really? And Windows 7 Starter Edition is?
Classifying iPad as a PC dramatically changes the competitive landscape, and levels it, considering that analysts do classify Windows slates and tablets as PCs. Some Wall Street analysts are now projecting Apple sold 4 million iPads during third quarter. Considering Apple sold more than 3 million a quarter earlier, when supply couldn't meet demand, 4 million isn't the least bullish. I think it's conservative. If analysts are right in their projections and iPad were counted as a PC, Apple would only need to ship 2.592 million tablets in the United States to match top-ranked HP. Dell is reachable by 2.353 million iPads.
Apple might offer some insight when announcing fiscal fourth quarter earnings on Monday. I say might, because Apple usually doesn't publicly break down single product categories by country or geographic regions. Meanwhile, I end by asking you two questions: What is a PC? What is iPad?