Opera 11 launches in alpha, offers new features to test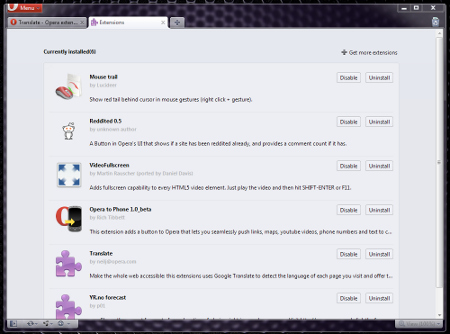 Opera Software has released the first build of Opera 11, the first browser in the software family <!article id="1287161263"> to support browser extensions.
"Opera has always been customizable, but now you can personalize your browser in a new way through Opera extensions," said Opera Co-Founder Jon von Tetzchner in a statement Thursday. "We take pride in introducing new
features to the browser. Now, other developers can join in the fun and share their innovations with millions of people. Everyone using Opera 11 will be able to personalize their browser in myriad ways, which opens up so many possibilities for making the Web a more personal experience."
In addition to extensions, Opera 11 has a new drag and drop mail panel, a new bookmarks bar, support for HTML5 events and websockets, and an overall performance improvement, and the new "Enable plug-ins only on demand" preference, which makes plug-ins such as Flash and Silverlight load only when clicked upon.
---
<!detail id="945720329-7">Download Opera 11 Alpha for Windows from Fileforum now.
---