Sprint and Clearwire at odds over 4G-capable devices that only use 3G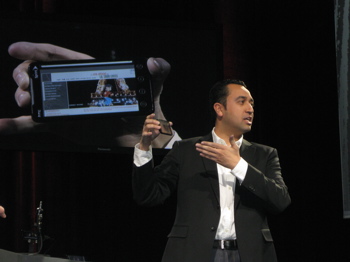 WiMAX network operator Clearwire is in arbitration talks with its majority shareholder Sprint, an SEC filing from Clearwire revealed today. The two companies are in dispute over dual-mode WiMAX phones such as the HTC EVO 4G and the Samsung Epic and the wholesale charges they incur.
"We have been engaged in ongoing negotiations with Sprint to resolve issues related to wholesale pricing for Sprint 4G smartphone usage under our commercial agreements with Sprint." <!external href="http://www.sec.gov/Archives/edgar/data/1442505/000095012310101000/0000950123-10-101000-index.htm">The filing says. "On October 29, 2010, we received a notice from Sprint initiating an arbitration process to resolve these issues. The process is in the early stages, and its outcome is unknown."
The issue is that there are <!article id="1288804638">approximately 810,000 EVO and Epic handsets registered on Sprint's network, and a significant chunk of them (Clearwire estimates as many as 364,500) are being used in cities with no WiMAX deployment. Sprint pays WiMAX wholesale fees to Clearwire that amount to $4.46 per device for the EVO and Epic, but since this large segment of users don't connect to WiMAX, Sprint is disputing the wholesale charge.
<!image id=5096 center>
"As of September 30, 2010, approximately 45% of our wholesale subscribers consisted of subscribers on multi-mode 3G/4G devices that resided outside of our launched 4G markets, but for whom we receive nominal monthly recurring revenue," Clearwire's SEC filing says. "Wholesale revenue in the third quarter is based upon minimal wholesale rate and usage assumptions due to unresolved issues around wholesale pricing. The issues relate to the application of existing wholesale pricing provisions to Sprint 4G smartphone usage. If these issues are resolved favorably to us, additional wholesale revenue would be recognized upon such determination."
If Sprint wants to renegotiate its wholesale agreement, Clearwire could end up having to re-think its WiMAX business.
"We could end up receiving substantially less in future wholesale revenues than we expect or for which we have planned," the filing goes on to say. "Such an outcome could require us to revise our current business plans and projections and could also adversely affect our results of operations."