Facebook's new messaging system handles e-mail, chat, SMS, Office Web apps all in one

Popular social networking site Facebook today announced it is rolling out a whole new messaging system over the next few months that "isn't just e-mail," but integrates four common ways users communicate: email, Facebook messages and chat, and SMS, and archives it all in a single thread.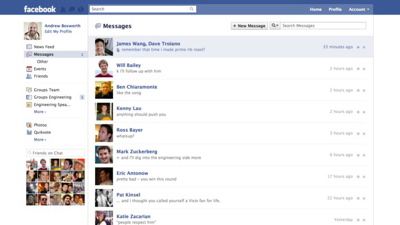 The new system puts a user's identity above the communication protocol. Facebook Engineer Joel Seligstein today said, "You decide how you want to talk to your friends...They will receive your message through whatever medium or device is convenient for them, and you can both have a conversation in real time. You shouldn't have to remember who prefers IM over email or worry about which technology to use. Simply choose their name and type a message."
Messages are received in an inbox, but it eschews the conventions of email and Facebook messaging (subject lines, recipient/cc/bcc fields, and such,) and instead turns all conversation into a chat, where the conversation and the person you're conversing with are merged.
So if you and a friend are conversing over Facebook chat, then he switches over to a mobile device, the conversation stays in the same place, except it's being sent through SMS.
It currently handles the four different methods of communication, but as it rolls out, it will also become a sharing and collaboration platform. Microsoft announced today that it is integrating the Office Web Apps experience into Facebook's new messaging system. Users will be able to share Word, Excel, and Powerpoint documents in Facebook messages, and download them to your desktop.
Facebook's new messaging system will be rolled out to different groups of users over the next few months, and will include a new mobile app, and @Facebook.com email addresses for interested users.