After over a year of dispute and delay, official Google Voice app hits iPhone

After a long battle for its place as a native iPhone app, Google Voice is finally available in the iTunes App Store.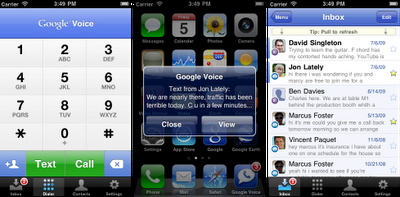 Google today announced that Google Voice for iPhone is now available in Apple's App Store, compatible with iPhones running iOS 3.1+ in the United States only.
Google's breakthrough calling service Google Voice lets users make cheap international VoIP calls, and send free domestic texts, but it has been fraught with controversy. Back in 2009, Google attempted to push out an iPhone app for the service which was rejected by Apple, for duplicating functionality already present in the iPhone.
The rejection triggered an FCC investigation into Apple's policies and their capability to stifle innovation. In the midst of the investigation, an unofficial app called GV Mobile made it through Apple's scrutiny and was launched in the App store for $3.99.
With it, users could make outgoing calls, send SMS messages, and check their voicemail from their Google Voice phone number, but that app was summarily pulled down from the App Store, again, for duplicating the iPhone's functionality.
Then in the beginning of 2010, it seemed like Google had taken its usual route around Apple's policies and released Google Voice as an HTML5 web app, fully usable in the iPhone's browser. Just two months ago, another unofficial Google Voice app made it into the App Store called GV Connect, and it looked like the service had found its place.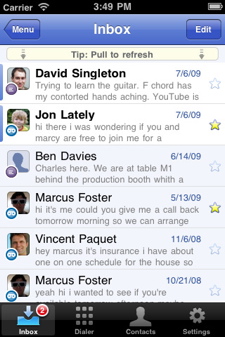 Now, however, the controversy around the service appears to have truly settled; using push notifications, Google Voice for iPhone alerts users when voicemail and text messages arrive, and outbound calls are placed through "Direct Access Numbers," which Google Engineer Flavio Lerda explained back in July:
"Until today, the Google Voice app had to make a request to the Google Voice server every time you wanted to make a call to send us the phone number you wanted to dial," Lerda said. "Then the call would be connected via a Google Voice access number. With direct access numbers, we assign a unique phone number to every person you call. This means that we no longer need to use your data network to access the server each time you make a call, so calls will be placed much faster."