Google marries Profiles and Places with new recommendation service, HotPot

Google on Monday unveiled a new service called Hotpot which marries Google Places with Google Profiles to try to provide more accurate recommendations when searching for physical destinations such as local restaurants and businesses.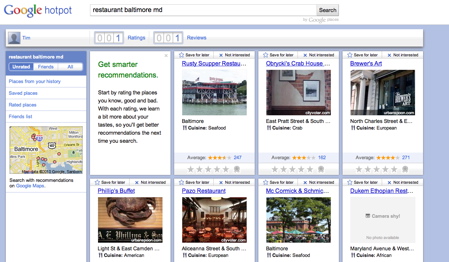 Users of the new service are encouraged to use their Google Profile to rate and review businesses they've had experience with. These reviews then serve two main purposes: to strengthen the database of Google Places reviews, and to build a profile of what the user likes and dislikes to help Google learn what to suggest to him in the future.
Also, the user's friend list is included into the service, so when a friend provides a review for a particular business, that review is included as a relevant search result when applicable. For example, if you're looking for a restaurant while you're in a neighborhood that you know is popular among your friends, your search for nearby restaurants will include their most highly-rated picks.
Reviews and searches can be done in a desktop browser, or on an Android 1.6+ smartphone running the Google Maps 4.7 update, which recently went live in the Android Market.
The focus of this launch appears to be restaurants and cafes, but reviews can be submitted for anything in Google Places: general retail, parks, libraries, hospitals, schools, law firms and doctor's offices. Google Product Manager Lior Ron yesterday said there are more than 50 million entries in Google Places already.