U.S. networks rally behind "wallet phones" as NFC-capable Android nears

Mobile network operators AT&T, Verizon Wireless, and T-Mobile USA today announced they have joined forces in a new venture called Isis, a commerce network based upon so-called "wallet phones."
The idea is that a user's smartphone is equipped with a near-field communication (NFC) chip encoded with their banking information, and exchanging money is as quick as swiping your phone over an NFC reader. These types of devices have been in use in Japan for more than six years, and have been extensively tested in the United States by the likes of MasterCard, Citigroup, Nokia, AT&T, and Visa, but this is the first time such a unified move by network operators has been made in the space.
"Our mobile commerce network, through relationships with merchants, will provide an enhanced, more convenient, more personalized shopping experience for consumers," said newly-named Isis CEO Michael Abbot. "While mobile payments will be at the core of our offering, it is only the start. We plan to create a mobile wallet that ultimately eliminates the need for consumers to carry cash, credit and debit cards, reward cards, coupons, tickets and transit passes."
In the next 18 months, Isis will be rolling out in "key geographic areas," but the company did not disclose any further details.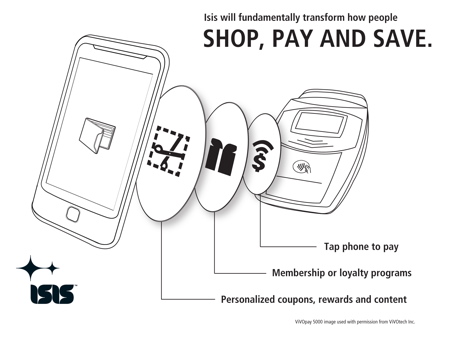 However, in a rather rudimentary promotional design included in the company's announcement this morning, the ViVOpay 5000 contactless payment terminal was shown along with what looked to be the representation of an Android phone.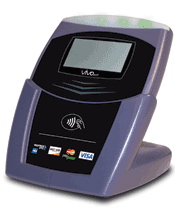 At the Web 2.0 summit yesterday, Google CEO Eric Schmidt announced that the next version of Android, code-named Gingerbread, will support NFC chips, and showed off an Android smartphone equipped with such technology. Gingerbread is expected to be launched in the next few weeks.