Dell Inspiron Duo, a first-of-its-kind netbook/tablet goes up for pre-order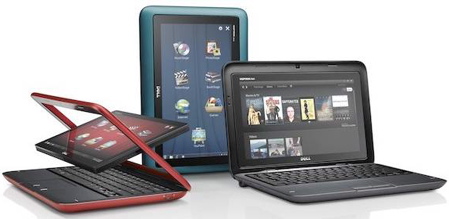 At the grand opening of the Microsoft Store <!external href="http://techflash.com/seattle/2010/11/pop-icon-miley-cyrus-lands-next-big.html">in Bellvue Square Thursday, Dell began accepting pre-orders for the Inspiron Duo, a convertible Windows tablet PC that takes a completely new approach to the form factor.
Though there have been a handful of different designs for convertible tablet PCs over the last decade, the design most manufacturers have settled upon involves a rotating joint where the screen meets the chassis. Dell's Inspiron Duo, first debuted at IDF earlier this year, mounts the touchscreen on a bezel so that it can be flipped on its horizontal axis like a spinning target in pinball. When facing one direction, the Duo is a touchable netbook, when facing the other, it's a multi-touch tablet.
The stock model Inspiron Duo is equipped with a 10" capacitive touchscreen, a 1.5 GHz dual-core Intel Atom processor, 2GB of RAM, 250 GB of storage, and a Broadcom Crystal HD graphics accelerator for a reported $549 with upgrade options available. In the <!external href="http://windowsteamblog.com/windows/b/windowsexperience/archive/2010/11/18/hands-on-with-the-uniquely-touchable-typable-dell-inspiron-duo.aspx">Windows Team blog today, Ben Rudolph said the cold boot startup time for the Inspiron Duo is 36.5 seconds, and shutdown with no apps open takes 17.5 seconds.
Unlike <!article id="1287768951">HP's Slate 500 which has already proven to be a surprise hit, the Inspiron Duo uses Dell's Stage user interface when in tablet mode. Dell debuted Stage earlier this year <!article id="1285217658">on the One 23 all-in-one PC.
In addition to having hands-on access to the Inspiron Duo today, customers of the Microsoft Store also have advance access to pre-ordering. Dell has not yet listed the tablet <!external href="http://www.dell.com/">on its site, but is expected to do so in the near future, with units shipping in December.