Survey shows misunderstanding of iPad's place in e-reader market

Market research company ChangeWave released the results of a survey on Tuesday that attempts to illustrate some of the recent consumer trends in the e-reader business.
ChangeWave said Amazon's Kindle holds a "rapidly diminishing lead" over the Apple iPad in the e-reader market, and that the iPad's overall presence in the space has doubled since August.
According to buying intent stated by consumers, ChangeWave also concludes the iPad "will be the biggest beneficiary of the expanding e-Reader market this holiday season, followed by the Amazon Kindle."
Naturally, this has led to headlines today declaring that the Kindle is somehow "losing" to the iPad.
Unfortunately, the entire survey is based on an unsound premise, because it seeks to compare hardware e-readers with software e-readers.
It compares the iPad with the Amazon Kindle, Barnes and Noble Nook, Sony Reader, and "smart phones with eBook capability." The three dedicated e-reader devices -Kindle, Nook, and Reader- cannot run third-party e-reader applications on them like the iPad and smartphones can.
The survey did not ask iPad or smartphone users which e-reader software they were using to consume their e-books. It is entirely plausible that the iPad may be gaining popularity as a device that consumers use to read e-books, but they could be buying books in Kindle or Nook format and consuming them in their related iPad apps.
Interestingly, the survey goes on to illustrate exactly why the iPad and smartphones should not be placed in the same category as hardware e-readers.
ChangeWave asked consumers "which of the following types of content do you currently read with your e-book reader?" Unsurprisingly, the majority of Kindle users said they're reading e-books, while iPad users said they tend to read newspapers, magazines, blogs and RSS feeds.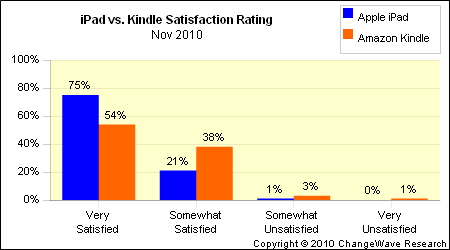 In short, this shows not that the iPad is stealing market share from the Kindle. But instead that consumers who read e-books are buying e-readers, and consumers who read colorful and web-derived content are buying tablets.