Free Software turns DisplayLink docking stations into Linux client PCs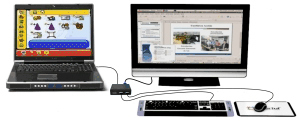 DisplayLink, maker of <!article id="1200429885">graphics-over-USB solutions, has partnered with Canadian company Userful to turn Displaylink-powered docking stations into Linux-driven CPU-less client PCs.
Userful makes a virtual PC solution for classrooms called Userful Multiseat Linux 2011. With this, a single PC can drive ten independent client machines running <!external href="http://edubuntu.org/">Edubuntu. Now that Userful has partnered with DisplayLink, owners of consumer docking stations with DisplayLink's USB Virtual Graphics technology (such as those <!external href="http://www.displaylink.com/shop/docks">made by Targus and Asus) can do the same thing for free, except in a more limited fashion.
All existing DisplayLink-powered USB docking station customers
can now download Userful's software for free, which turns their laptop or PC and docking station into two independant computer stations. Userful's software solution and DisplayLink Linux drivers are compatible with the full line of DisplayLink chips, allowing plug and play graphics over standard USB cables, and the software can be installed as a dual
boot, so it can be run without affecting any existing systems.
"We are excited to work with Userful on the development of drivers and MultiSeat Linux software solutions that enable the use of our USB virtual graphics on a robust open-source platform," Dennis Crespo, executive vice president of marketing and business development at DisplayLink said yesterday. "Now schools can spend less time and money configuring systems, and more time providing students with practical computing experience."
DisplayLink dock owners can freely download Userful's software <!external href="http://manage.userful.com/customers/forms/contact?class=displaylink&return_url=http://userful.com/products/downloads/thank-you">here.