Tablets look to steal the show at CES and beyond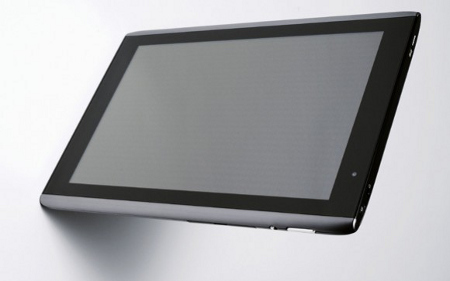 Could 2011 be the year of the tablet? It sure seems that way -- as many as 100 companies may release tablet computers in 2011, say analysts. This week's Consumer Electronics Show in Las Vegas will be the debut of several of these devices, all hoping to at least compete with the juggernaut that Apple's iPad has become.
What was once a market that seemed to have little potential has proven to be one of technology's most lucrative -- and untapped. Apple was able to successfully take advantage of this opening, and has left its competitors scrambling in an attempt to catch up.
Among the companies expected to debut their tablets at CES are Toshiba, Motorola, RIM, and Acer. All will be going after the more than 60 million consumers who are expected to purchase a tablet in 2011, an increase of three times over last year. Even Vizio, a company more known for its budget TVs than anything, is planning to get into the act.
<!article id="1285621392">RIM's PlayBook is probably the most highly anticipated device. The tablet will run a new version of Blackberry's OS produced by QNX and includes Wi-Fi connectivity, 1GHz dual-core Cortex A9 processor, 1GB of RAM, and front and rear facing cameras.
HP may debut its PalmPad, although it hasn't confirmed that it would make an appearance at CES. Either way it's the first tablet device to run the Palm operating system, and reports indicate it would run on Sprint's 4G network.
Toshiba's tablet device will be shown, expecting to run on Android's next-generation OS dubbed "Honeycomb." Motorola's tablet device -- also making a debut here -- <!article id="1292873093">is also expected to run the new version.
Android will likely make significant inroads in the tablet sector -- while the Android 2.3 "Gingerbread" (the current version) adds some support making it useful for tablet devices -- such as support for larger screens -- it does not inherently support these form factors. Honeycomb will fix this, as it has been developed with tablets in mind.
Such a move was necessary if Google intended to make Android relevant outside of the smart phone space, say analysts.
Either way, if people are expecting any of these devices to be "iPad killers," they're likely to be disappointed. Honeycomb won't hit until the second half of this year, at the earliest, meaning devices based on it are also a long ways away.
If the past is any indication, the first generation iPad is nearing the end of its life cycle, ready to be replaced by a new and likely much better device fixing some of the problems and shortfalls of the first. No announcement has been made, but it is rumored that an announcement and release could come as early as the first quarter of this year.