Ballmer CES keynote: Microsoft sells 8 million Kinect controllers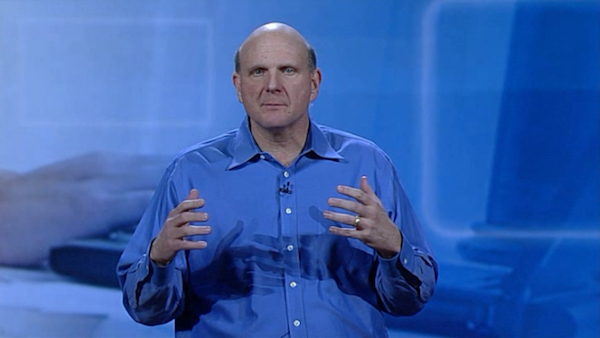 It wouldn't be the Consumer Electronics Show without Microsoft kick-off keynote. For about a decade, cofounder Bill Gates assumed the role. More recently the burden belongs to CEO Steve Ballmer.
Considering all the accolades given Apple chief executive Steve Jobs during 2010, I wonder if he would give the keynote if asked. After all, Job's is tech's CEO-darling of the hour, he runs the tech company with largest valuation and Apple's most successful products -- at least released during the new millennium -- are consumer electronics: iPad, iPhone, iPod touch and newer MacBook models. Apple's products have lots more to do with consumers and electronics than do Microsoft's. Ballmer's company mostly sells to enterprises and earns nearly all its profits from software. Apple sells hardware, and of course bundled software and services, to consumers.
But Ballmer bears the burden, which during his short tenure is more polished and approachable than his predecessor's keynotes. Gates often seemed to be talking to the wrong audience. Gadget geeks and massmarket CE manufacturers aren't IT pros or software developers. Gates often struck me as being out of his element speaking at CES. These weren't his people. Ballmer is more comfortable, and he commands the stage with gusto, prancing about like a lion. He's king of the jungle.
<!image id=5618 center>
Steve Ballmer Xbox Avatar
But I was surprised at the size of the jungle. As the CES kick-off keynote, I expected topics more appropriate to the entire industry. At first, I thought he would do that, as Ballmer alluded to three screens -- PC, TV and smartphone -- which are priorities for many CE companies. However, he reduced their relevance to Microsoft products.
Ballmer started by touting Xbox, particularly the Kinect controller. Some news: Controller-free Netflix and Hulu Plus will be available on Xbox in a few months. Another new feature coming is Avatar Kinect, which Xbox Live Gold members will get for free this Spring. The technology uses facial and body recognition to generate the avatars.
<!image id=5621 center>
Avatar Kinect
Ballmer said Xbox Live has 30 million members, or two new ones signing up per second. But the big news was about Kinect. Microsoft expected to sell 5 million Kinects during the holidays "In the first 60 days we sold over 8 million Kinect sensors worldwide," Ballmer said. Whoa.
Ballmer switched topic to Windows Phone 7, touting the 5,500 applications and 2,500 developers. Whoa, and that compares how to the 200,000 - 300,000 apps at the Android Marketplace and iTunes App Store? "Job No. 1 is showing this phone to people," Ballmer said. "Once they see the phone, they fall in love with it." It's a good goal. Ballmer said that Windows Phone 7 would come to Sprint and Verizon during the first half of the year. "Windows Phone is the best phone out there," he boasted.
<!image id=5622 center>
Tablet PC
Microsoft's CEO moved on to Windows. Ballmer left the stage for a demo and then returned to talk about the day's earlier announcement -- <!external href="https://betanews.com/article/Windows-8-will-run-on-ARM-natively-Microsoft-says/1294268873">next version of Windows running on ARM processors and System on a Chip (SoC) architecture. Ballmer described Windows support for SoC as "an important step for Microsoft and the industry."
Ballmer emphasized that Windows would continue to support x86 processors, but Microsoft's strategic shift raises questions about the chip architecture's future. While Ballmer repeatedly touted the 1 billion Windows customers, the number of cell phone subscribers is 5 billion, according to the United Nations. The majority of those devices and the seemingly bazillion tablets announced over the last three days don't use x86 processors.
<!image id=5624 center>
<!external href="https://betanews.com/article/Microsoft-introduces-Pixel-Sense-in-new-slimmer-Surface-20/1294271005">Surface 2.0 Pixel Sense
In some ways, "what was missing" overshadowed Ballmer's keynote. Contrary to rumors, Ballmer didn't dedicate any meaningful time to tablets -- at least not directly. Microsoft didn't launch a tablet operating system or show off dozens of slates running Windows 7. Yes, some devices made the demo, but with the emphasis on multifunctionality, such as Tablet PC with stylus and touchscreen.
From a public relations perspective, the approach has merit. Any zealous tablet push would have led to bloggers and journalists making iPad comparisons. By staying away from Apple and iPad, Ballmer kept the message Microsoft pure, which is good marketing. Microsoft sets the agenda on its terms rather than taking the position of following a competitor.
The biggest Microsoft news came more than five hours earlier, during a press event for ARM and SoC support. It is simply <!external href="https://betanews.com/joewilcox/article/Are-this-years-CES-attendees-afraid-of-Apple/1294265286">unprecedented for Microsoft to upstage its keynote like this.
Nevertheless, Ballmer commanded the stage, shining confidence and capability. He's got plenty of fight yet to give Microsoft.