Microsoft introduces "Pixel Sense" in new, slimmer Surface 2.0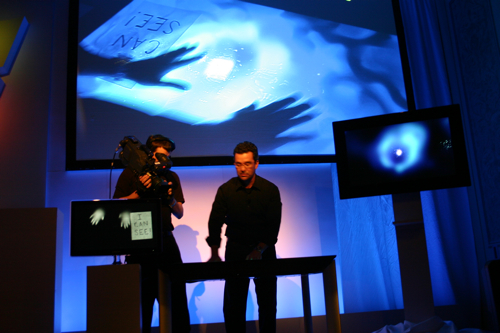 At a pre-keynote briefing Wednesday, Microsoft unveiled Surface 2.0, the company's newest build of its touchscreen display that has thus far been employed mostly in signage and kiosk interfaces.
The first generation of Surface utilized cameras to sense where the user was touching the screen, and this made it a gigantic, immobile table. Now, in partnership with Samsung and AMD, Surface is only 4" thick, and it comes with the biggest piece of Corning's Gorilla Glass that has ever been bonded to an LCD screen. It's not unlike a big smartphone, and because it is so much thinner, it can now be mounted upon vertical surfaces.
Microsoft Wednesday said Surface 2.0 can be this thin because the cameras are gone, and it uses a technology known as "pixel sense."
Pixel Sense is infrared sensors dispersed throughout the screen, where each pixel can also act as an infrared camera. This way, it is more than a touch screen, because it's utilizing "vision" instead of electrical conductivity. Microsoft's trials included putting a piece of paper onto the new Surface display, and it could read the writing upon the paper.
<!image id=5615 center>
Microsoft said the Royal Bank of Canada will be a launch partner for Surface 2.0 but did not provide any further details regarding a release of the technology.