Motorola shakes the earth at CES with Atrix 4G Android phone/notebook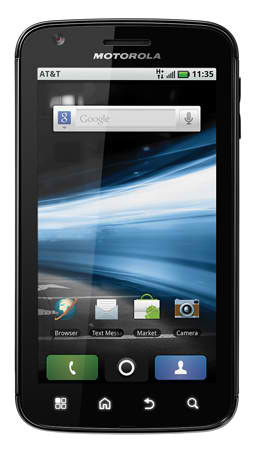 The freshly spun-off Motorola Mobility has made a huge impact at CES 2011 with the new Android-powered Atrix 4G, a dual-core Android smartphone with 1GB of RAM that can be docked in a multimedia desktop dock or an 11" notebook dock, making it a full-blown Android PC either way.
Atrix 4G, simply stated, is the most powerful smartphone that has ever been announced. It has a dual-core Nvidia Tegra 2 processor, 1GB of RAM, support for up to 48GB of storage, a 4" (960 x 540) screen, 5 megapixel flash camera and front-facing VGA cam, HSPA+ mobile broadband, 802.11b/g/n, and Android 2.2 with MotoBLUR.
But by far the most interesting aspects of the Atrix 4G come when it's docked. With multiple docking options, this smartphone can become an HD multimedia center or a Firefox webtop-driven notebook PC.
The Atrix and its related accessories will come to AT&T in the first half of 2011, but there is no word on its price just yet. Like many of the other gawping attendees of CES this year, I intend on getting my hands on this for a run-through with pictures and a more detailed writeup. More info coming soon!