Samsung's Series 9 laptop is the Windows Macbook Air killer you've been waiting for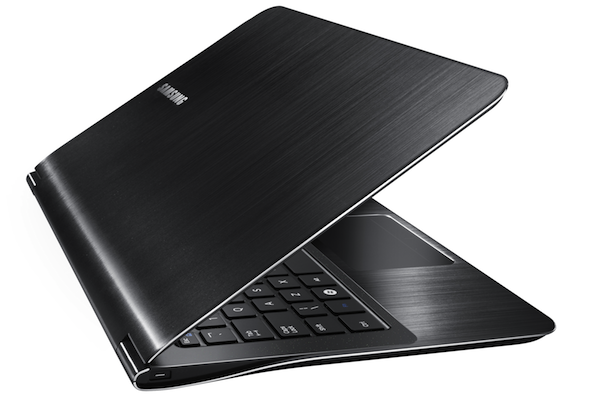 Second-generation Intel Core Family processors are here, and laptop manufacturers are wasting no time announcing new models. Samsung has the eye-popper of the Consumer Electronics Show (OK, so far), and it's sure to make MacBook Air owners whine with envy (that is if they're between Apple Kool-Aid fixes). Hell, I want one. The Samsung 9 Series packs big performance in a little package.
How little a package? The 9 Series has a ".64-inch profile," (16.3 mm) according to Samsung. MacBook Air thickness ranges .11-.68 inches (3-17 mm) Both laptops weigh 2.9 pounds (1.73 kg). The two thin-and-lights feature 13.3-inch displays with 1366 x 768 resolution, DDR3 memory and no optical drive. But the 9 is two full Intel processor generations ahead of the Air, with second-generation 1.4GHz i5 Core processor compared to the aged 1.86GHz Core 2 Duo processor.
I often harp about the importance of good design and out-of-box experience. Perhaps Samsung gets it. "When designing a premium laptop like the 9 Series, Samsung wanted to offer an unforgettable experience without limitations. The 9 Series laptop successfully combines elegant styling, performance and ease of use in an ultra thin and lightweight package," Scott Ledterman, Samsung's director of Enterprise Business Division mobile PC marketing, said in a statement. Look at the photo and dare to disagree. But, first, please, wipe the drool off your existing laptop.
Full specs: 1.4GHz Intel Core i5 processor (2537M), with 3MB cache and turbo boost to 2.3GHz; 13.3-inch backlit-LED display (400 nit); 1366x768 screen resolution; 128GB sold-state drive; 4GB DDR3 memory; Intel HD GT2 integrated graphics; 3 watt (1.5W x 2) stereo speakers with 1.5 watt sub-woofer; USB 3.0; Bluetooth 3.0; 802.11b/g/n; WiMax; Windows 7 Home Premium or Professional (64-bit for both); 6.5 hours claimed battery life.
What will this beauty cost? Gulp, it starts at $1,599 (available in February), and with Samsung listing 128GB SSD storage as "max," the configuration above will likely cost quite a bit more. There, 13.3-inch MacBook Air, which starts at $1,299, will have price advantage. The higher-end config is $1,599, with twice the storage but half the memory.
Would you buy the Samsung Series 9?