Apple opens doors to Mac App Store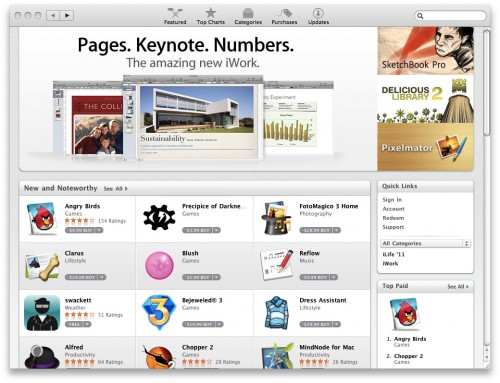 Aiming to provide Mac users with a one-stop shop for basic applications, Apple on Thursday launched the Mac App Store. Much like its sister App Store for the iOS platform, the offering allows users to purchase and install applications from a single place.
Currently about 1,000 apps are available for download, ranging in price from free to as much as $79.99 for Apple's Aperture 3 product. Indeed, Apple is committing itself to the product, offering the Pages, Keynote, and Numbers applications from its iWork suite and the GarageBand, iMovie, and iPhoto apps from iLife '11 for individual download.
Purchasing the entire suite of iLife would cost about $5 cheaper than the boxed version, and would be missing both iDVD and iWeb; while purchasing iWork through the Mac App Store actually would come at a $20 discount to the boxed version currently sold through Apple Stores and its resellers.
"We think users are going to love this innovative new way to discover and buy their favorite apps," Apple CEO Steve Jobs said in a statement.
Users of the App Store should find the layout of the Mac version familiar. Apps are split up into categories, and purchasing requires an iTunes account. Updating of the apps would work just like the iOS version, where the user must load the App Store application in order to process the updates.
<!image id=5629 center>
Mac App Store's list of popular apps shouldn't be surprising. The Mac version of Angry Birds has shot to #1 already, and Apple's own iPhoto and iMovie apps are among the top five.
In order to use the Mac App Store, users must install the Mac OS X 10.6.6 update, also released today. The new version of Mac OS X is said to also include several bug and security fixes.
<!image id=5631 center>