Mac App Store tops 1 million downloads during first 24 hours

Apple just won't let it go. While the rest of the industry is focused on the Consumer Electronics Show (Apple isn't there), the company keeps trying to steal other tech vendors' thunder. ;-) First, Apple launched the Mac App Store on CES 2011 Day 1. Now it's announced that Mac users downloaded 1 million apps within the first 24 hours. Yeah, but how many people paid?
"We're amazed at the incredible response the Mac App Store is getting," Apple CEO Steve Jobs said in a statement. "Developers have done a great job bringing apps to the store and users are loving how easy and fun the Mac App Store is."
The Mac App Store opened with about 1,000 free and paid apps, which I must concede are nicely presented. Snow Leopard users can get the store simply by downloading Mac OS X 10.6.6. The store will be integrated into v10.7, which is scheduled to release around summer. Apple's revenue-sharing deal gives developers 70 percent of sales (assuming they charge, of course). Other developer benefits:
1. Applications can be made available across multiple-sized devices -- Macs, iPads, iPhones and iPod touches.
2. Developers can now scale their applications across devices.
3. Developers can sell apps for which they will be paid; the app store deters piracy.
4. Rights protection is built in so that customers aren't exposed to onerous piracy-deterring activation mechanisms.
5. The store makes applications easily available to customers and more easily searched for than scouring the Web.
6. Developers can easily get digital shelf space -- and, therefore greater exposure -- where they might not get retail shelf space at all in stores like Best Buy.
7. Usage rights are assigned to a person, not a PC. There is an identity, which is potentially good for additional marketing efforts and establishing meaningful relationship with software buyers.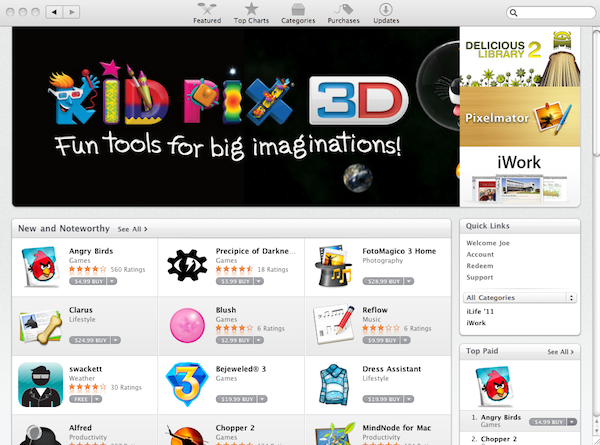 Apple's 1-million downloads is overshadowed by ominous news. A group calling itself "Hackulous" claims to have developed Kickback, a mechanism for cracking some applications' digital rights protection. However, as of this posting, Hackulous hasn't publicly released Kickback, reportedly waiting until the Mac App Store builds a larger library. Oh, 1 million downloads isn't enough? I've got to wonder: Will news of the crack lead to even more downloads?
In answer to my earlier question "How many people paid?", Apple offers some insight in Mac App Store charts. The 11 top-grossing apps:
Apple Aperture
Apple iPhoto
Angry Birds
Pixelmator
Sketchbook Pro
Apple iMovie
Apple Pages
Apple Remote Desktop
RapidWeaver
Apple GarageBand
Apple Keynote
Uh-oh, seven of the 11 top-grossing apps are from Apple. That benefits developers of the other 993 apps exactly how? Apple slashed the price of Aperture from $199 boxed to $79 in Mac App Store. Remote Desktop got a hefty price cut, too. When reporting anything my first question always is: Who benefits? Well, who benefits here? You tell me, please, in comments.