End of an era: Bob Muglia is leaving Microsoft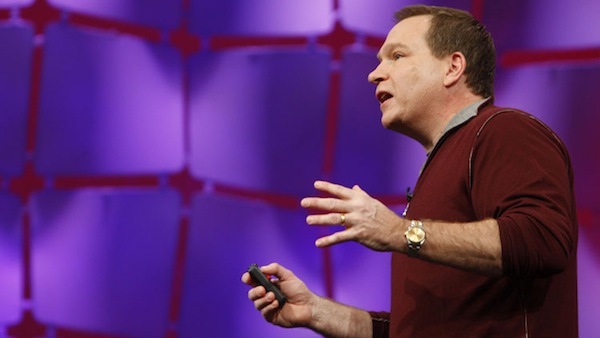 The leader of Microsoft's Server and Tools Business goes out with a slap in the face.
In an <!external href="http://www.microsoft.com/presspass/press/2011/jan11/01-10steveb-mail.mspx">executive e-mail released by Microsoft today, CEO Steve Ballmer revealed Bob Muglia's departure. The Microsoft veteran played an essential role building up the Server and Tools Business division, and he is popular with software developers. Muglia joined Microsoft in 1988 and became president of the Server and Tools Business two years ago this month.
Ballmer's e-mail was nothing short of brutal: "Bob Muglia and I have been talking about the overall business and what is needed to accelerate our growth. In this context, I have decided that now is the time to put new leadership in place for STB. This is simply recognition that all businesses go through cycles and need new and different talent to manage through those cycles. Bob has been a phenomenal partner throughout this process, and he and his leadership team have the right strategy in place." Ah, what kind of recognition of service is that?
I'm surprised Ballmer is considering a new president for the division. Server and Tools has grown phenomenally under Muglia's leadership, as president and his previous role as senior vice president. Ballmer's own words are reason enough to wonder: "There are very few $15 billion businesses in the software industry, and Microsoft is the only company that has built three of them. While Windows and Office are household words, our Server and Tools Business has quietly and steadily grown to be the unquestioned leader in server computing."
In the most recent quarter, fiscal Q1 2011, Server and Tools generated $3.6 billion in revenue and $1.6 billion profit. For comparison, the division generated $2.53 billion in revenue and $896 million in profit during the same quarter of fiscal 2006. Margins are much tighter for Microsoft server software than desktop software. Windows Server has consistently posted double-digit growth and the Server and Tools Business proved to be the bellwether division during the economic crisis and before Microsoft released Windows 7 in October 2009 and Office 2010 in May 2010.
"In conjunction with this leadership change, Bob has decided to leave Microsoft this summer," Ballmer explains. "He will continue to actively run STB as I conduct an internal and external search for the new leader. Bob will onboard the new leader and will also complete additional projects for me."
Now there's a double slap in the face, not just for loyal Muglia but for other Microsoft employees. Microsoft will search outside the company for a new Server and Tool president. For Microsoft, I hope it's the internal search that turns up a new president. Ballmer continues:
Bob has been a founder and leader of our server business from its earliest inception. He has led our Developer, Office, and Mobile Devices Divisions, and key parts of Windows NT and our Online Services business. I've worked with him in many capacities over the years and I've always appreciated his customer focus, technical depth, people leadership skills, and his positive energy. I want to thank Bob for his hard work, many accomplishments, and his focus on putting Microsoft first for 23 years.

We enter this new decade with STB providing the platform for today's business solutions, and uniquely well-positioned to drive the future of cloud computing. I believe STB will continue to lead the industry with outstanding products and services for our customers and exceptional results for our business.
From one perspective, Muglia is a dinosaur. He led the Server and Tools Business during the enterprise era of networked data. But Microsoft is looking beyond the corporate server market to cloud-connected datacenters. In December 2009, <!external href="https://betanews.com/joewilcox/article/Microsoft-reorg-creates-the-Server-Cloud-Division/1260313091">Microsoft created the Server and Cloud division, less than two months before Azure launched. Amitabh Srivastava, senior vice president, assumed responsibility for the new division.
I've got to say, though, if Muglia is a dinosaur, what does that make Ballmer?
I am hugely interested in Betanews reader reaction to this stunning news. What do you think of Muglia's departure, and who would you want to be replace him? Please answer in comments or e-mail joewilcox at gmail dot com.