Get one of Windows 7's best features on your Mac desktop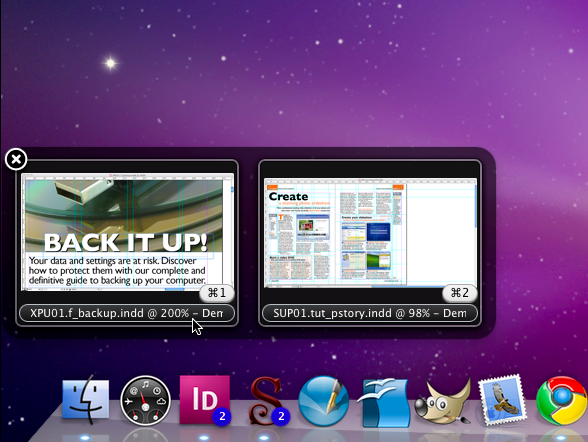 Many people consider the Mac OS X desktop superior to Windows, which perhaps explains why there are so many utilities for Windows users that try to mimic elements like the Mac OS X Dock in Windows. But Windows 7 introduced some nifty new features of its own that suddenly become notable by their absence on the Mac.
One of the these features is the Live Thumbnail previews of open windows that appear when you roll the mouse over a Taskbar icon, allowing you to quickly view, select and even close individual windows or documents. Mac developers have been quick to plug the gap with the release of shareware programs like <!external href="http://www.downloadcrew.com/article/19293-hyperdock">HyperDock and <!external href="http://www.downloadcrew.com/article/15217-dockview">DockView, although you'll need the latest Mac OS X (v10.6, or Snow Leopard) release to take advantage of either program.
DockView
<!external href="http://www.downloadcrew.com/article/15217-dockview">DockView (see photo above) concentrates solely on providing thumbnail previews, either via the Dock or when pressing [Cmd] + [Tab]. Roll the mouse over the Dock and a pop-up window will reveal dynamic previews of each open document or window in that application. The preferences dialogue pane gives you all the options you need -- many of which aren't found in Windows, such as the ability to resize the preview window, select a background color to go with the window previews or even to place a badge over dock icons indicating how many windows or documents are open in that application.
The program is available as a time-unlimited trial, but you'll be frequently prompted to register for the relatively small sum of $7.99, which seems a small price to pay if you struggle to manage lots of open applications and windows at the same time.
HyperDock
<!external href="http://www.downloadcrew.com/article/19293-hyperdock">HyperDock (see photo below) offers similar functionality to DockView, although its previews are limited to the Dock only. Having said that, it offers more options for customising the thumbnails -- including the ability to use multiple rows depending on how many windows are open in the currently selected application.
<!image id=5716 center>
HyperDock goes further, however: it also allows you to specify keyboard shortcuts for the Dock as a whole, or for specific Dock items, such as minimising windows, creating new tabs or quitting the application. Better still, it includes another useful feature from Windows 7: the ability to "snap" two windows side-by-side simply by dragging each window to opposite edges of the screen where they'll automatically resize to take up half of the available space.
Which program should you opt for? If you want a truly stable release plus the ability to view thumbnails from the Task Switcher, then DockView wins hands down. It also beats its immediate rival when it comes to the look of the thumbnail preview balloon. However, although HyperDock is still in beta, it's very stable and close to final release. It's also completely free at present, although the author has admitted it will cost a "small fee" when it's finished. We also like its additional features and the fact it's configured from its own Preferences panel rather than another icon in the Dock, which gives it a more integrated feel. DockView may have the looks, but HyperDock has better functionality, and that edges it for our money.