Google releases Honeycomb platform preview: Android's biggest redesign yet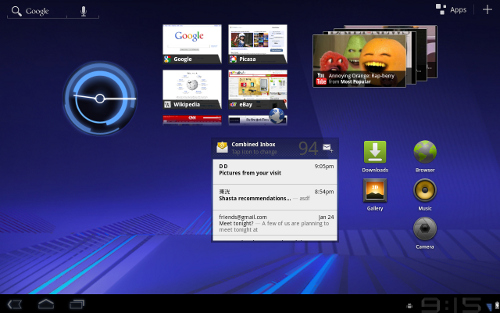 Today, Google rolled out the first platform preview of the Android 3.0 software development kit, giving the public its first look at Android for tablets and its "holographic" user interface.
This is easily the most dramatic design shift Android has yet experienced, but all of the operating system's key features have been retained.
For example, there are still five homescreens for the user to put widgets and application shortcuts upon, and there is still the launcher "drawer" of applications, but the "system bar" found across the top of the screen in previous versions of Android has moved to the bottom.
By doing this, Google was able to replace the physical navigation buttons required in Android (back, menu, home) with soft keys in the system bar. Notifications, which play an increased role in Android 3.0, have been moved down here as well. The SDK gives app developers the ability to include large and small icons, a title, and a priority flag in addition to the already available notification properties.
Whenever an application is running, it has its own "Action Bar" across the top, which mimics Windows' traditional "File, Edit..." menu layout. This is completely new to Android. The system's soft keyboard and clipboard copy/paste functionality have both been redesigned for larger screens as well.
<!image id=5792 center>
The system's core applications have been redesigned too, and the browser has taken on much more of a "Chromey" feel with tabs instead of windows, Chrome's incognito browsing mode, and the ability to sync bookmarks with Chrome. The camera, gallery, contacts, and email applications, likewise, have all been redesigned to take better advantage of a tablet's increased screen real estate.
<!image id=5794 center>
In terms of hardware support, Honeycomb can run on either multi-core and single core processors. And hardware acceleration for Canvas, Paint, Xfermode, ColorFilter, Shader, and Camera are supported. Android 3.0 includes a built-in Media/Photo Transfer Protocol that lets users sync media files with a USB-connected camera or desktop computer without needing to mount a USB mass-storage device, and support for full QWERTY keyboards over either USB or Bluetooth has been added.
This platform preview includes a Honeycomb system image for emulators, and the Android 3.0 library with preliminary APIs. The final version of the Android 3.0 SDK with all the finalized APIs is expected to be released in the coming weeks.