[UPDATE] Netflix ranks Charter as best, Clearwire worst for data throughput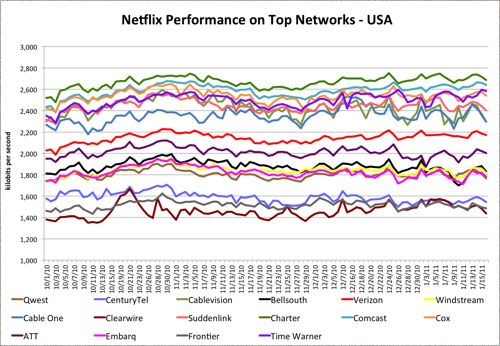 In the company blog Thursday, Netflix Director of Content Delivery Ken Florence presented <!external href="http://techblog.netflix.com/">a ranking of the best and worst network operators for Netflix streaming, a ranking that the company plans to maintain and publish as a monthly report.
Florence says the top HD streams from Netflix are about 4,800 Kbps, and because the service adapts to the available bandwidth a provider may have, no one carrier would hit that maximum and maintain it. However, it serves as a good reference point for the average overall throughput a network can provide. Charter, the leading US network in overall throughput, averaged 2,667 Kbps between October 1, 2010 and January 15, 2011.
Beneath Charter are three relatively distinct performance tiers. Following not too far behind Charter was a cluster of six carriers: Comcast, Cox, Time Warner, Cablevision, Suddenlink, and Cable One.
Then, there is a rather large drop in performance into a middle tier where Verizon, AT&T, Bellsouth, Windstream, Embarq, and Qwest are rather evenly spaced in descending order. These range between approximately 2,300 Kbps and 1,700 Kbps.
Finally, there is the bottom tier with the slowest performers, which includes CenturyTel, Frontier, and Clearwire. These carriers performed in the range of 1,650 Kbps to about 1,400 Kbps.
Naturally, network technology, content delivery partners, and geographic region all have a lot to do with an operator's overall performance in these rankings, but as Florence says, "it's a great high-level view of Netflix performance across a large number of streaming sessions."
Still, Clearwire representatives reached out to us today, looking to defend their mobile broadband network against Netflix's castigation.
"It doesn't come as a surprise to anyone in tech that a wireless network ranks behind wired DSL, cable and fiber optic networks in terms of speed," a Clearwire representative said. "Wired networks are capable of achieving faster speeds than wireless networks. That's the nature of the technologies. But speed isn't the whole story."
Indeed, Clearwire does have its own benefits that can balance out the lower average speed; principal among them is the fact that when a user is connected to a Clearwire WiMAX signal, he can take his Netflix stream along with him, instead of having to leave it at home.
"As mobile video consumption increases, this key advantage will only become more of a differentiator for services like ours," Clearwire told us.
Most interestingly, though, was the fact that Canada had an average much closer to the maximum than the U.S. Rogers, Canada's largest ISP, trumps all of the United States' carriers with a 3,020 Kbps average throughput. When Netflix launched its streaming service in Canada just over six months ago, Rogers shrunk the download cap for its Lite pricing tier from 25GB per month to 15. Users <!external href="http://communityforums.rogers.com/t5/forums/forumtopicpage/board-id/Getting_connected/thread-id/102">began complaining that these data limits could be met and exceeded in under a week of use. Maybe the heightened stream speed and quality have something to do with it.