Google makes it easier to build sites for Google TV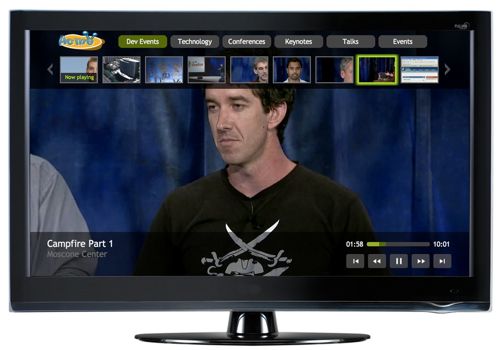 Friday, the Google TV team published a couple of new <!external href="http://code.google.com/tv/web/docs/gtv-templates.html">design templates, as well as <!external href="http://code.google.com/tv/web/lib/">a still-in-beta Web UI library that Web designers can use to optimize their sites for
Google TV
.
"While existing websites can be displayed in Google TV, the user experience isn't always ideal within the context of a living room," Steve Hines and Daniels Lee of Google TV Developer Relations Team wrote <!external href="http://googletv.blogspot.com/2011/02/optimizing-your-site-for-tv-is-now.html">in the Google TV blog today.
Blockage of such "less-than-ideal" sites could actually have been what caused Google TV to have such a disappointing launch in the first place.
Within the first month of the service's availability on <!article id="1286403420">the Logitech Revue set top box, ABC, NBC, CBS, Fox, and Viacom all made their websites unavailable to Google TV. The idea was that this would limit users' access to only the sites that the content providers designed specifically for Google TV.
If you're a pessimist, you could say it was done to limit users' access to certain streaming video content. If you're an optimist, you could say it was to ensure users had the highest quality sites available on their Google TVs.
Either way, if you're a Web designer, you now have some easy tools to rebuild your video site with a pre-made "10-foot UI" for Google TV. All of the templates are open sourced under the Apache 2 license, and they support sites that utilize HTML5, JavaScript, CSS and Flash.
"One important optimization for browsing websites on TV is ensuring that D-pad navigation works well. The JavaScript-based templates utilizes a new library we've developed for this purpose-- the Google TV Web UI Library," Hines and Lee wrote today.
The templates require that you have the Adobe Flex 4.5 SDK installed in your IDE, and the Flash 10.2 plugin for browser-based testing.
They can be downloaded now from the <!external href="http://code.google.com/p/gtv-resources/">Google TV developer resource page.