New Android market shows the future is in device-agnostic app stores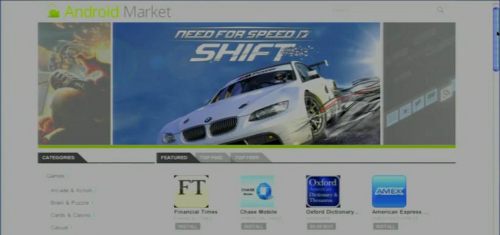 Google on Thursday finally launched a renewed web-based Android Market that integrates with a user's Google account and lets him shop for applications and send them to the various Android-powered devices linked to the account. This new shop marks the industry-wide trend toward comprehensive device-agnostic software shopping solutions.
Amazon's Kindle store was the first major shopping outlet to take such a step. Users can shop for Kindle-formatted e-books on Amazon.com, and push their purchases to their Kindle device, regardless of whether it's a dedicated e-paper reader or a software application.
ABI Research released a study on Friday which said the market for digital content will not be tied to the success or failure of any single gadget, despite the widespread misconception that a single tablet or e-reader could "win" the market.
"Consumers can purchase digital texts through their PCs or smartphones, in addition to buying directly through their eReaders," said Larry Fisher, research director of NextGen, ABI Research's emerging technologies research incubator. "The variety of applications that allow people to buy this digital content reassures them that they won't be tied to a single store--or device--for content."
Similar to the "write once, run anywhere" ideal, the key to success in future e-commerce will be the ability to list once, buy anywhere.
Using common Web development standards and handy new HTML5 capabilities, mobile network operators, OEMs, and <!external href="1290625442">software retailers are taking up this mantra and <!article id="1296580114">optimizing their storefronts to be device-agnostic websites.
Though the new Web-based Android Market allows developers to post bigger photos and even videos of their applications in action, and the browsing experience is superior to the native Android Market app, the remote installation feature is by far the most important addition here. It means easier access to apps, easier purchase management, and even potentially innovative uses of the apps that are remotely installed.
Imagine, for example, a user has lost his phone and doesn't have any emergency tracking devices to locate it. You could conceivably make an auto-launching homing beacon app that users could send to their phone from the Web store; or even more severe, an automatic kill pill that could sync all data back to the Google account and then wipe the phone. Because it works over the web, there's no need for a mobile device to be anywhere near the user for him to install apps on it.
As Android is picked up as <!external href="http://www.touchrev.com/products/NIMble/nimble-10-embedded-touch-computer/">an embedded operating system for devices other than smartphones and tablets, this functionality could also come in extremely handy, as the device would not need a browser or a native market client to receive new applications.